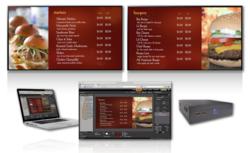 The Origin Express has the two main components that make up digital signage, (1) Content Management and (2) File Management under one umbrella at a comparable price to these other offerings.
Long Island, NY (PRWEB) February 20, 2013
Origin Display Group Inc., a leading supplier of indoor, outdoor, and digital menu boards, have added "Origin Express" to their digital signage product mix.
The Express package is a slightly stripped down, entry level version of their premier Origin Elite solution that has been offered for years; both of which are powered by SmarterSign. Origin Express is made up of one-part media player and one-part software and fills a void where people are looking for a single screen solution.
The differences between the Express program and the Elite program are straight forward. Some of the highlights are:

Express has a single screen output vs. dual for Elite
Express has 1G of storage vs. unlimited with Elite
Express has a limited template library vs. vast through Elite
Technical and User Support is limited to web and email support with Express
Express training is done in a group webinar forum vs. one-on-one with Elite
Express has single account management vs. unlimited users with Elite
Despite the variances between the two options, Origin Displays' Partner, Mike Lella, feels that the Express will be the ideal fit for those looking for a true solution but do not have the need for a large network. "The issue companies like ourselves are facing is that the digital signage market is being saturated by folks couching their product as a solution when in fact it isn't. The result is people being misled to lesser products because of cost. The Origin Express has the two main components that make up digital signage, (1) Content Management and (2) File Management, all under one umbrella at a comparable price to these other offerings. Now, people can have the majority of the Elite's bells and whistles at a low cost for entry. They can also incorporate digital into an already existing static menu board system, focusing the attention on one screen for daily, weekly, monthly specials. This is an affordable way to dip your toe in the water before rolling out a larger scale system."
As a part of the Express Package, and beyond the media player and software license, Origin Displays will design custom content, configure the media player so that it is plug-and-play ready, schedule the content, set up the playlist and provide 90 days of unlimited support. When asked why they don't simply offer the software, Mike Lella had this to say: "I'd be lying if I said we didn't contemplate using a Monkey's Paw to draw people in but we feel that we know our market and leaving it to them to figure out the design aspects, scheduling, what media player to buy, etc., would be counterproductive and frustrating for everyone involved. Owner/operators specifically, want something that is easy to use, dependable and affordable, and we feel the Express addresses this."