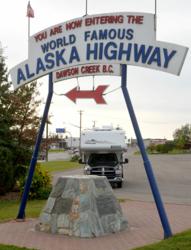 Lancaster, PA (PRWEB) February 20, 2013
Truck Camper Magazine is celebrating the dream of taking a truck camper trip to Alaska with a three part article series called Alaska Week.
For part one, Plan a Trip to Alaska, Mark Turnbull shares his trip planning, truck packing, rig modifying, tips and experiences from an incredible 14,052 mile, 59 day, 1,131 fuel gallon, emotional truck camping trip to Alaska.
For part two, Alaska On a Budget, Jerry Caldwell shares his top ten tips on exploring Alaska on a budget including how to save on food, fuel, camping, internet, and more.
For part three, The Cannonball Alaska Run, Matt and Cheryl Reinker set out in a their Chevy 1500 and Northstar TC650 on a 8,872 mile, 21 day cannonball run from Michigan to Alaska, and back.
About Truck Camper Magazine
Founded in 2007, Truck Camper Magazine is the only media dedicated to truck campers, slide in campers, pickup campers, pop up campers, and cabover campers.
From our Buyers Guide with thirteen modern hard-side and pop-up truck camper manufacturers, to our globe trotting Off-Road and Expedition section, Truck Camper Magazine is the leading international voice in the truck camper marketplace.
Truck Camper Magazine: Go anywhere. Camp Anywhere. Tow Anything.