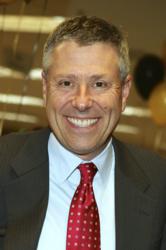 (PRWEB) February 21, 2013
THINK Together, California's largest nonprofit provider of academic support and extended learning time programs, announced longtime business leader and executive Eric Boden will lead the organization as its new Chairman of the Board.
Boden replaces Fran Inman, senior vice president of Majestic Realty, who has been the board chair for the past two years.
"THINK Together deeply engages my passion around helping children reach their full potential-especially those who are disadvantaged and at-risk," said Boden, the retired chairman and CEO of HireRight, a leading global provider of web-based employment screening solutions based in Irvine. "THINK Together is making a proven difference in children's lives by collaborating with schools to deliver innovative, quality out of school programs. I am pleased to be a part of this important effort and excited to offer support and leadership in my new role as chair."
Randy Barth, the Founder and CEO of THINK Together, said Boden's leadership and business experience will play a big role in his board leadership.
"Eric has had deep experience and remarkable success in scaling businesses throughout his career," Barth said. "I look forward to working closely with Eric as we seek to continue to scale both THINK Together's size and impact. Our public/private partnership model enables us to engage the private sector to work closely with school districts to complement their offerings as together we seek to provide students with the academic and enrichment supports that are so vital for our students as they develop skills they will need to compete in a 21st Century global economy."
Boden, who has been a member of the board and executive committee for THINK Together since 2011, managed the growth of HireRight and successfully completed a NASDAQ public offering in 2007. HireRight was acquired by Altegrity in 2008. Previously, he enjoyed a successful 30-year career in the retail industry. From 1991 until 1997, Boden was the president and CEO of Frame-n-Lens Optical, Inc., a national prescription eyewear manufacturer and retail chain. Boden is also a 21-year veteran of Dayton Hudson Corp. (now Target Corp.), where he was a vice president for Barnes & Noble bookstores. For more than 17 years he also served in various positions of increasing responsibility with Target Stores during its rapid national expansion. In 1981, he helped lead Target's market introduction to the West Coast.
He holds a bachelor of arts degree in psychology from the University of Colorado.
In addition to THINK Together, he serves as a board member for Groundwork group OC, a non profit organization helping non profits leverage technology to more effectively achieve their missions. He is also a past member of the Dean's Advisory Board and executive committee for the UC Irvine, Paul Merage School of Business.
About THINK Together
With more than $60 million in annual revenue, THINK Together is one of the leading and largest nonprofit providers of academic support programs (early literacy, after-school, small group tutoring, summer learning, etc.) in the U.S., serving more than 100,000 students across 420 locations in 35 school districts and more than 30 cities across a five-county footprint of Southern California (Los Angeles, Orange, Riverside, San Bernardino and San Diego) plus greater Sacramento. Partnering with school administrators and teachers, its academically oriented programs and dedicated team of 2,500 employees are helping students close the achievement gap. THINK is an acronym: Teaching, Helping, Inspiring & Nurturing Kids. For more information, call (888) 485-THINK or visit http://www.THINKtogether.org or http://www.facebook.com/THINKtogether.