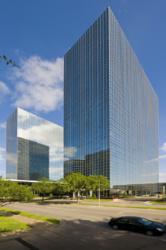 Greenway Plaza's convenient location, ease of ingress/egress and access to amenities made our decision to move to 11 Greenway very straightforward.
Houston, Texas (PRWEB) February 20, 2013
Crescent Real Estate Holdings LLC announced today that Camden Property Trust signed a lease for 86,733 square feet at 11 Greenway Plaza. Camden, one of the largest publicly traded multifamily development companies in the United States, will expand and relocate their corporate headquarters from 3 Greenway Plaza to the 23rd through 26th floors of 11 Greenway Plaza during the third quarter of 2013.
Bob Boykin, Warren Savery and Bubba Harkins represented the owner, Crescent Crown Greenway Plaza SPV LLC, while Anthony Squillante, Chris Johnson, Jeremy Hunt and Mike Anzilotti represented Camden Property Trust.
"Camden's growth over the years required that we relocate our headquarters from 3 Greenway Plaza," said Keith Oden, Camden's president. "After a lengthy review of available options, we decided that the best choice for the company and our team members was to relocate within Greenway Plaza. The convenient location, ease of ingress/egress and access to amenities made our decision to move to 11 Greenway very straightforward."
"Greenway Plaza has been home to Camden for many years. The firm's employees enjoy the complex's amenities, campus-like environment, and convenient location. The lease at 11 Greenway Plaza offered Camden the ability to expand its corporate headquarters in a premier office building and to remain in a familiar location. From the company's perspective, it was an easy decision to stay in Greenway Plaza," said Squillante, Managing Director of Stream Realty Partners, a national real estate services, development and investment firm.
The planning and design of Camden's new space in Greenway Plaza is being conducted by Gensler and the construction will be performed by E.E. Reed Construction, L.P., according to Squillante. Located in Houston's Greenway Plaza submarket, 11 Greenway Plaza is a 31-story Class A office building with 745,956 square feet.
"Crescent is delighted to continue its long relationship with Camden Property Trust, which has had its headquarters at Greenway Plaza since 1998," said Bob Boykin, Managing Director of Leasing for Crescent. "Through the years, Greenway Plaza's master plan design has provided flexibility that allows our customers to grow and remain in the convenient 55-acre business park with attractive residential, retail and entertainment options on and adjacent to the campus. Camden will get a fresh and expanded look in a new building in essentially the same advantageous location."
Camden Property Trust is a Standard & Poor's 400 company engaged in ownership, development, acquisition, management and disposition of multifamily apartment communities. Camden was recently named by Fortune magazine for the sixth consecutive year as one of the "100 Best Companies to Work For" in America, ranking 10th.
ABOUT GREENWAY PLAZA
Greenway Plaza, Houston's premier master planned business development, is a 10-building complex featuring 4,250,641 square feet of Class A office space. The campus is also home to The Shops at Greenway, which include a unique selection of retail options and a full service food court. Located just five miles southwest of downtown Houston, the 55-acre business park and mix-use community includes residential condominiums, a luxury hotel and comprehensive athletic/social club, and provides easy access to major thoroughfares and convenient transportation alternatives. For more information, visit Greenway Plaza's web site at http://www.greenwayplaza.com
ABOUT CRESCENT
Crescent Real Estate Holdings LLC, headquartered in Fort Worth, Texas, is a fully-integrated real estate company owned by Barclays Capital and Goff Capital. Through its subsidiaries, Crescent owns or manages a portfolio of 25 premier office buildings totaling over 9.2 million square feet located in select markets across the United States with major concentrations in Fort Worth, Dallas, Houston, Denver and Las Vegas. Crescent also holds investments in resort residential developments in locations such as Scottsdale, Vail Valley, and Lake Tahoe; a luxury hotel, The Ritz-Carlton, Dallas; and the wellness lifestyle leader, Canyon Ranch®. For more information, visit Crescent's Web site at http://www.crescent.com.
# # #
FOR MORE INFORMATION
Dennis Winkler, Winkler Public Relations
(713) 259.0195 or Dennis (at) WinklerPR (dot) com