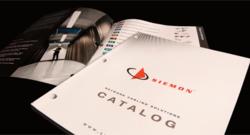 Representing more than a century of Siemon expertise, this new catalog is the essential guide to the industry's leading commercial cabling products.
Watertown, CT (PRWEB) February 21, 2013
Siemon, the global infrastructure specialist, announces the release of its newest full-line catalog for North America. Available at no cost, this 248-page publication features the latest information on Siemon's network cabling, connectivity and data center solutions, including standards compliance, application examples and detailed product specifications. Representing more than a century of Siemon expertise, this new catalog is the essential guide to the industry's leading commercial cabling products.
The new full-color, intuitive catalog details the latest innovations in each of Siemon's high-performance product sets, including performance leading end-to-end TERA® category 7A/Class FA, Z-MAX® Category 6A solutions as well as a complete line of high-quality category 6 and 5e copper cabling systems. The catalog also covers Siemon's comprehensive family of optical fiber cable and connectivity solutions, including MTP-based plug and play in addition to innovative cabinets, power and cooling, and intelligent infrastructure management for today's complex data centers.
This new full-line catalog also includes Siemon's most popular legacy products such as Siemon's CT Series Couplers and S66 Connecting Block options that were not included in recent Siemon System catalogs.
Some of the newest Siemon innovations featured in the new catalog include:

Ultra-Efficient IcePack Cooling Door System, a scalable rear door heat exchanger that uses passive liquid cooling to offer a cooling capacity of 31kW per cabinet for challenging data center hotspots.
Innovative Intelligent Power Distribution Units (PDUs) that distribute power to network equipment while providing real-time monitoring for saving energy and maximizing uptime in the data center.
Feature-rich V600 Cabinets, a cost-effective 600mm (24 in) server cabinet that is ideal for use with VersaPOD cabinets and provides lightweight stability, accessibility and superior airflow.
Universal Modular Furniture Adapter for securely mounting work area network connectivity in common modular furniture systems while maintaining performance-critical bend radius.
New MapIT® G2 infrastructure management solutions, including an interconnect option for tracking connectivity between switches and smart patch panels and a plug-and-play multi-fiber option.
High-quality RouteIT™ Cable Tray and J-hooks available in an array of sizes and mounting options to support a wide variety of data center and network pathway configurations.
The new catalog offers detailed information on Siemon's comprehensive line of products:
End-to end copper and fiber network cabling and connectivity solutions
Fiber enclosures and splicing accessories
Intelligent infrastructure management
Work area products and accessories
Racks, enclosures and cable management
Data center cabinets and power and cooling solutions
High-speed interconnects
Ruggedized/Industrial connectivity solutions
Specialty tools and testers
For a free copy, visit http://www.siemon.com/catalog
###
About Siemon
Established in 1903, Siemon is an industry leader specializing in the design and manufacture of high quality, high performance network cabling solutions and services for Data Centers and Intelligent Buildings. Headquartered in Connecticut, USA, with global sales, technical and logistics expertise spanning over 100 countries, Siemon offers the most comprehensive suite of copper and optical fiber cabling systems, cabinets, racks, cable management, data center power and cooling systems and Intelligent Infrastructure Management solutions. With over 400 patents specific to structured cabling, Siemon Labs invests heavily in R&D and the development of Industry Standards, underlining the company's long-standing commitment to its customers and the industry.
Contact Information
Brian Duval
MarCom Manager
Siemon
101 Siemon Company Drive
Watertown, CT 06795
Ph: 860-945-4380
E: brian_duval(at)siemon(dot)com