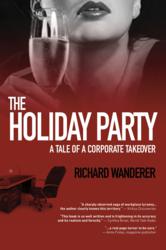 Los Angeles, California (PRWEB) February 21, 2013
At a recent video recording session at LA Castle Studios, Richard was quoted as saying, "How often do people in this country help their employer build a great business only to come to work one day and find out the company their efforts helped to build has been sold?" Wanderer continued and said, "Then strangers arrive with their own agendas. People's lives are changed - often for the worse." From his more than half a century of working in the advertising departments of major national magazines in NYC and Los Angeles, Richard put together a fictional suspense novel based upon an amalgamation of situations and characters he encountered along the way. Later in life, the author, while working full time and raising a family, also became a lawyer and a member of the California Bar.
Readers of "The Holiday Party (A Tale of a Corporate Takeover)" learn about the takeover of a family owned national magazine by a huge media conglomerate. Run in a friendly manner by the family, the takeover media conglomerate immediately imposes a Draconian regime of thrift where long time, competent, employees are dismissed and many who remained thought they were trapped in the "Twilight Zone". One of the takeover corporation's first actions was to change the name of the magazine's industry-wide Christmas party to the "holiday party" in order to look politically correct to the outside world despite the chaos they cause to their new employees- hence the fictional suspense book's title, "The Holiday Party (A Tale of a Corporate Takeover". At the recent recording session, Mr. Wanderer stated, "Though this is a suspense novel, one of the characters, through his actions, shows the reader how a person can successfully navigate through this type of situation. One can still find hope and some solutions when caught in this type of dilemma."
This novel has received some very strong reviews: Kirkus Reviews calls it, "A sharply observed saga of workplace tyranny" San Francisco Book Review, "Page-turner"; MidwestBook Review, "Highly recommended"; IndieReader, "Suspenseful"; Bookviews by Alan Caruba, "Leaps off its pages". The book's website is"
http://www.theholidaypary-ataleofacorporatetakeover.com
Published by Two Harbors Press, the novel is in soft cover and also available on Kindle and Nook. Contact: Patricia O'Brien, St. Bernard Public Relations (818) 986-7777