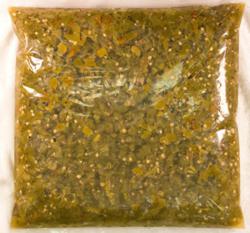 Our chile is the real deal, it's grown in the Chile Capital of the World
Hatch, NM (PRWEB) February 21, 2013
Young Guns Produce, Inc, one of the largest producers of Hatch, New Mexico green chile in the nation, has added bulk diced green chile to its growing inventory of products sold through its online store.
"We're very excited to be able to sell our green chile online," says Chris Franzoy, President of Young Guns Produce, Inc. "And now to be able to sell to not only the consumer, but to restaurants and bulk buyers as well is a great feeling."
Franzoy made the decision to offer bulk chile after being contacted by a restaurant in Austin, Texas about purchasing his chile online.
"We wanted those restaurants that were looking to serve authentic Hatch green chile to be able to do so while keeping the costs low."
To this end Young Guns Produce, Inc. is selling a case of 5, 5-pound bags of frozen, diced Hatch green chile for $82.50 including shipping.
The green chile can be purchased in hot, medium and mild varieties.
"Our chile is the real deal," says Franzoy, "it's grown in the 'Chile Capital of the World,' has been hand-picked and then fire-roasted. If a restaurant wants to serve the authentic taste of the Southwest, there's no better way to do it than by offering our chile."
About Young Guns Produce, Inc.
Young Guns Produce, Inc. is located in Hatch, New Mexico (also known as, "The Chile Capital of The World"). The corporation was established in February of 1992. The principal owners are Chris and Tammy Franzoy.
Young Guns Produce began its focus on marketing produce grown in Hatch, New Mexico with the idea of supporting the community and delivering great food to the consumer. Chris has always headed up the sales department, and has been at the desk for over 25 years.
The company has evolved into one of the largest suppliers of onions and fresh Hatch Green Chile, pumpkins, and New Mexico Pinto Beans in the Hatch Valley. The newest addition to our Hatch produce is our Frozen Hatch Green Chile.
For more information go online at http://www.younggunsproduce or call 1-575-267-3001