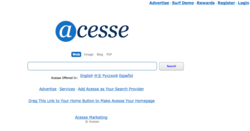 Minneapolis, MN (PRWEB) February 21, 2013
Acesse has been growing at an exponential rate since its start in 2008 and with its growth it has recently added a search engine to its repertoire. Not only is Acesse a competitive marketing and advertising company, it hosts a search engine that currently generates over 2 million searches a day. The business model for the search engine is unique because it is designed to support smaller businesses through priority listings for members in search results and affordable, user-friendly advertising and marketing packages created to drive traffic to a member's website.
By becoming a member of Acesse and using its search engine functions, members will see an increase in traffic and with that can potentially see an increase in revenue as well. Acesse offers a great amount of opportunity for small businesses and any organization looking to grow its marketing and advertising expertise with a great company. Acesse is working to make a difference in the lives of people around the world by creating a platform where members can be a part of something bigger than a search engine. At Acesse members feel like business partners.
Acesse.Com a division of the Acesse Corporation, registered under the laws of the state of Nevada, USA.