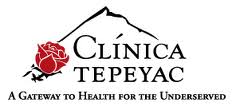 Denver, Colo. (PRWEB) February 21, 2013
Clínica Tepeyac, one of Colorado's most respected safety net clinics, was recently awarded a $300,000 three-year grant by the Colorado Health Foundation (CHF) for electronic medical records (EMRs).
By implementing an EMR system, Clínica Tepeyac will be able to better coordinate patient health information, reduce unnecessary costs and ultimately, enhance patient care for thousands of underserved patients in Metro Denver.
"We are excited by our long-term partnership with the CHF. This grant is instrumental in providing us with the technology to improve the quality and efficiency of our clinic's operations and patient care," said Jim Garcia, CEO and founder of Clínica Tepeyac.
"We are happy that CHF recognizes the importance of EMR adoption in safety net clinics like Clínica," continued Garcia. "We treat Metro Denver's most vulnerable and underserved residents, so it is important that we provide efficient, coordinated care."
"The Colorado Health Foundation is pleased to support Clinica Tepeyac's addition of electronic medical records to its inventory of high quality health services to help meet the needs of Denver's underserved citizens," said Anne Warhover, president and CEO of the Colorado Health Foundation.
Founded in 1994, Clínica Tepeyac is a model for providing health education, prevention, and primary medical services to underserved patients in metro Denver. Clínica's new EMR system is expected to be implemented by October 2013.