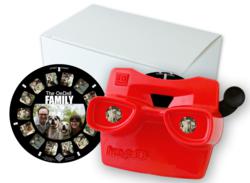 From time to time, we like to do fun contests and give out coupon codes
Portland, OR (PRWEB) February 22, 2013
Image3D, leader in custom View-Master style reels and viewers, is offering a 20% discount on orders placed on their Celebrate website.
Image3D's Celebrate website is a place where customers can go to create their very own custom View-Master style reel and viewers. Simply, upload your 7 images, edit your pictures and add 3D captions, approve the reel, and checkout online.
Image3D strives to create an enjoyable and exciting experience for all customers. "From time to time, we like to do fun contests and give out coupon codes," says Social Media Manager, Liz OeDell. "As an online consumer myself, I value companies who do this kind of thing for their customers. It keeps me coming back!"
There is still time to take advantage of the current coupon. The coupon is valid through February 28th, 2013 and is good on any order placed on the Image3D Celebrate website.
About Image3D:
Established in 1997, by world renowned 3D photographer Rich Dubnow, Image3D provides custom View-Master style Reels for everyone from blushing brides to corporate titans. Rich has more than two decades of experience as the lead photographer at View-Master and has produced work for creative visionaries like Jim Henson and Steven Spielberg. Today Image3D operates in a state-of-the-art facility in the picturesque Pacific Northwest, creating unique and awe inspiring 3D experiences for all. To learn more about Image3D visit http://www.Image3D.com