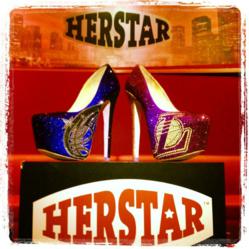 New York, N.Y. (PRWEB) February 21, 2013
Dazzling through Houston, TX Feb. 15-17, HerStar's luxury team heels made a lasting impression on celebrities and fans during the NBA All-Star Weekend.
With over 10,000 flyers flying around, radio promotions and celebrity/NBA wife giveaways, the real party during the 2013 NBA All-Star Weekend was found wherever a pair of gleaming stilettos housed the feet of a beautiful woman. Celebrity names such as Letoya Luckett (Original Destiny's Child member), Brooke Bailey of "Basketball Wives," Adrienne Bosh (Chris Bosh's Wife) and Vanity Perkins (Kendrick Perkin's Wife) are only a few of the many females that proudly promoted HerStar's unique team heels throughout the weekend.
As a growing trend on Instagram, celebrities and public figures such as Brooke Bailey posted "I love them!!!" about her Los Angeles Lakers Crystal Pumps. Other public figures such as Dallas Mavericks Dancer, Chantel, posted "All Mavs fans need to check out HerStar Shoes…I'm obsessed!"
During the weekend, HerStar founder and designer, Holly Joffrion, was interviewed by the prestigious Al Jazeera Sports network commenting on the future of this growing luxury brand for female athletes around the world. "We understand how much women love their shoes and recognize that going to an NBA game can be an event beyond the hardwood," says Holly. "We're able to combine the love of basketball and footwear together, allowing female fans another way to display their passion for the game."
About HERSTAR™
A unique global leader in women's sports merchandising, HERSTAR designs, develops and markets sports fashion footwear & apparel that appeals to women who seek a unique take on sports fashion. With more than 400 styles, HERSTAR meets the needs of female sports fans across every age and demographic. Online, HERSTAR'S extensive footwear collection is available at http://www.HERSTAR.com.