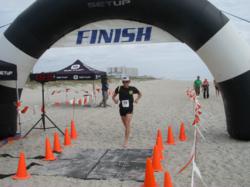 The best combined team time wins the coveted Masonboro Trophy, named for Masonboro Island
Wrightsville Beach, N.C. (PRWEB) February 23, 2013
Four miles running the surf. Four miles stand up paddleboarding the sound. Relay team time to beat: 1 hour, 13 minutes 40 seconds.
Jason St. Clair, event chairman, today announced call for entries to find the fastest Run/SUP relay teams in the nation for the 2013 Wrightsville Beach Biathlon. This year's race is scheduled for March 23, at Blockade Runner Beach Resort.
The Wrightsville Beach Biathlon, unlike any biathlon in the nation, challenges participants with a 4-mile total body workout on stand up paddleboards circumventing Money Island, followed by a 4-mile team relay sprint in beach sand, dramatically increasing the degree of difficulty compared to typical road races.
Those seeking extreme competition can bypass the relay and register in the Individual Men or Women categories.
To register visit: WBB.eventbrite.com
Accommodations: http://www.WrightsvilleBiathlon.com/
"The best combined team time wins the coveted Masonboro Trophy, named for Masonboro Island," said St. Clair. Masonboro is the largest undisturbed barrier island along the southern part of the North Carolina coast, five miles southeast of Wilmington. Additional cash and prizes are awarded to top finishers.
SUP Cleanup, an organization conducting monthly cleanups in surrounding islands and waterways, benefits from The Wrightsville Beach Biathlon.
Contact: Jason St. Clair, Chairman
Phone: 910-256-7115
Jason(at)blockade-runner(dot)com
Event registration: WBB.eventbrite.com
Accommodations: http://www.WrightsvilleBiathlon.com/
Top 2012 Winners
Relay Team Champs: Bike Cycles Team with Craig Stephens and Matt Whistoff (1:13:40)
Men's and Women's Individual Champs: Jarrod Covington (1:20:03), and Kimberly Sutton (1:34:15)
Blockade Runner Beach Resort is home of The Carolina Cup, North Carolina Surf to Sound Challenge, Cold Stroke Classic, and Wrightsville Beach Biathlon.
Robert B Butler, http://www.ncPressRelease.com