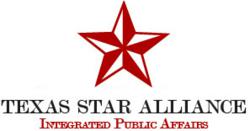 Kara has been an integral part of my office for over six years and is a proven leader. Congressman Michael T. McCaul, Chairman of the House Committee on Homeland Security
Austin, Texas (PRWEB) February 25, 2013
Today, the Texas Star Alliance announced Kara Mayfield, former Deputy Chief of Staff to Congressman Michael T. McCaul, will be joining the firm. Considered to be an expert on security and transportation issues, Kara brings more than 15 years of public policy experience at both the state and national levels.
"Kara has been an integral part of my office for over six years and is a proven leader," said Congressman Michael T. McCaul, Chairman of the House Committee on Homeland Security. "It has been a pleasure to work with her, and she has served the 10th Congressional District of Texas with passion and integrity."
Kara served as the Deputy Chief of Staff and managed all state matters for the Congressman and his district. During her tenure, she was promoted from Director of Field Operations to District Director and finally to Deputy Chief of Staff. In this role, she was responsible for maintaining all issues within the district and handling the day-to-day business that arose within the nine counties of CD-10 spanning from Houston to Austin.
"The addition of Kara Mayfield brings another public policy expert in both state and federal issues to our firm's deep roster," said John Pitts, managing principal of Texas Star Alliance. "Her knowledge, work ethic and experience speak volumes. We are proud to welcome Kara to our firm."
About Texas Star Alliance
Texas Star Alliance integrates legislative advocacy, legal protection and strategic communications to create public policy success for our clients. Based in Austin, we specialize in direct lobbying, state agency relations, administrative rule-making, coalition building, strategic communications, media relations, social media and more. We address our clients' complex public policy challenges with sophisticated, integrated services that are more effective – in outcomes and costs – than traditional methods.