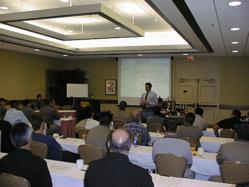 Mentor, OH. (PRWEB) February 26, 2013
Roll-Kraft is pleased to announce the schedule for its spring and summer regional tube & pipe and roll form seminars. This year's seminars feature new and updated content for 2013, as well as additional speakers with various technical backgrounds and experiences to share. Each seminar lasts for a full eight hours (8 a.m. to 4 p.m.) and the attendance fee is $525 per person.
Toronto, Canada, Seminar:
On May 7, a tube & pipe seminar will be conducted in Canada, at the Vaughan Southwest Holiday Inn Express in Toronto, Canada.

Mentor, Ohio, Seminars:
On August 21 and 22, Roll-Kraft will host their annual seminars in Mentor, OH. The seminars will be held at LaMalfa Center adjacent to the LaMalfa Holiday Inn Express. The tube & pipe seminar will be held on August 21, and August 22 will be geared towards roll forming.
The seminars will include a new section devoted to stainless steel, which will contain information on the various types of stainless steel and related forming designs, along with ways to improve the cosmetic quality. The seminars will also cover basic subjects such as:
Mill Integrity and Alignment
Roll Design
Setup, Breakdown and Fin Section
Copra FEA RF Software
Tooling Maintenance Programs
Each seminar will be followed by a time for questions and answers.
The Roll-Kraft team will provide 3 p.m. tours of the nearby Roll-Kraft facility on the day prior to each seminar. The tour will offer the participants a first-hand view of the company's capabilities.
Reduced hotel rates are available for a limited number of rooms by mentioning the Roll-Kraft seminar. See the registration links for further lodging information for each seminar.
Roll-Kraft has its headquarters in Mentor, Ohio, and maintains other facilities in Frankfort, Illinois (Roll-Kraft Northern), and Ontario, Canada (Roll-Kraft Ltd.). The company phone number is (888) 953-9400 or (440) 205-3100, and the fax number is (440) 205-3110. Please also visit the web site at roll-kraft.com. For easy and immediate contact with Roll-Kraft that transcends time zones and working hours, the website features Dr. Resolve. Simply complete and submit an on-line form and Roll-Kraft will respond.