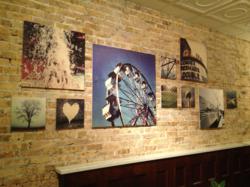 Chicago, Illinois (PRWEB) February 25, 2013
Introducing InstaThis, a new streamlined service that connects directly to customers Instagram photos and creates stunning prints on wood or acrylic. Now, instead of merely viewing prints digitally, individuals can arrange them in their home or office to match their style — or give them as gifts to family, friends, and business colleagues.
Using a unique mix of web-to-print technology and handmade craftsmanship. InstaThis set out to start more than a printing/image company, we are not interested in simply providing a unique gift idea, but want to make it easy and affordable to rethink the spaces we live in. If choosing wood, the natural wood grains of Baltic birch come through the image and the colors pop off the birch. Choose acrylic, and the vibrancy of the colors combine with the polished finish to create a truly stunning piece.