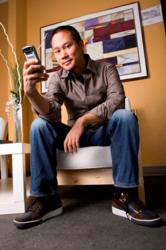 We are thrilled to welcome Tony Hsieh to keynote this event
Milwaukee, Wis. (PRWEB) February 25, 2013
Tony Hsieh, CEO of Zappos.com, will headline NEWaukee's Young Professional Week presented by JSJobs on April 21, 2013. Young Professional Week, the only national conference organized by Millennials for Millennials to address talent attraction, engagement and retention, will be held April 14-21, 2013 at several locations in the Milwaukee area.
"Milwaukee is a national leader in its effort to attract and retain talent due to Young Professional Week and NEWaukee's innovative approach of millennial engagement," said Ian Abston, president of NEWaukee. "We are thrilled to welcome Tony Hsieh to keynote this event."
During the inaugural Young Professional Week in 2012, NEWaukee introduced a unique collaboration between 35 local organizations to encourage connectivity and create a first-of its-kind platform to introduce young professionals to Milwaukee's many offerings and help them become vested in the community.
This year, Young Professional Week welcomes more than 50 of the nation's leading millennial organizers from across the country. The national conference will address talent engagement through 22 dynamic events presented by local community organizations throughout Milwaukee's most exclusive and historic locations. Young Professional Week is another important plank in NEWaukee's platform for improving the livability of our city," said David Wise, Marketing Director for the Milwaukee Journal Sentinel. "Our new JSJobs.com site is designed precisely to connect world-class job seekers with local employers and we could not be more pleased than to present this important event." Zappos CEO Tony Hsieh will headline the event to champion his beliefs on corporate culture and how it impacts Zappos' growth and economic development in Las Vegas.
In addition to Hsieh's speech, Young Professional Week will center on the following themes: 414 MKE Day, Sustainability in a Modern City, Silicon Valley of Water, Women in Leadership, Innovation in Milwaukee, Building a Creative Class Economy, Earth Day and Community Engagement.
To purchase tickets to see Tony Hsieh, or for more information about Young Professional Week, please visit http://www.ypweek.com.
About NEWaukee
NEWaukee is a non-profit organization operating in conjunction with ART Milwaukee. This dedicated and energetic young professional network loves the city of Milwaukee, its people and strives to make it a better place for all of us to live, work and play. Through regular events and programming, NEWaukee has built a membership of over 40,000 Millennials that represents the voice of the local generation. With the platform of Young Professional Week, NEWaukee creates a national springboard for idea sharing, an increased sense of connectivity, and vestment in our local community among Milwaukee's millennial workforce. For more information on NEWaukee, please visit http://www.newaukee.com.
About JSJobs
JSJobs is an online job portal connecting qualified candidates with local companies seeking to hire the right candidates. It is a premier recruitment site powered by the massive reach of JSOnline.com, the #1 source for local news in the Milwaukee area. JSJobs offers a suite of robust tools to help companies target candidates, review resumes and track results. JSJobs is available 24/7 on the web, smartphones and tablets. http://www.JSJobs.com