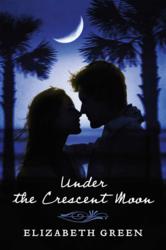 If you read "The Notebook," you'll want to read "Under the Crescent Moon."
Atlanta, GA (PRWEB) February 25, 2013
Are you living the life you are supposed to? Have you made relationship choices you now regret? Is it too late to be with the person with whom you really want to be? Romance short-story author, Elizabeth Green, explores the answers to these questions in her new novella, Under the Crescent Moon. The book is released here today. Ms. Green's book explores themes that most people have experienced, the magic of true love, the haunting of regret, and the grace of second chances and redemption.
After reading Under the Crescent Moon, you will feel a restored sense of appreciation for the people you love most. You also will feel the need to reconnect with someone you've loved in the past, and you will feel confident that the universe ensures people who are supposed to be in your life will be.
Under the Crescent Moon, set in South Carolina's lush low country, is available on Amazon for Kindle, Apple's iBookstore for iPad, Barnes & Noble for Nook, Baker & Taylor, Copia, Reader Store (Sony Reader), and Gardner's Books.
Under the Crescent Moon is a short novella, one story with two separate parts. The primary story is told through the first-person voice of Elise, an 80-year-old woman, who sets out to discover and live the life she was supposed to. As she journeys down a sea-island parkway, she recounts her first love through flashback. Though separated decades ago, she is sure that second chances happen and that she will be reunited with her one true love. But will she? In an emotional twist of fate she is reunited with something even more precious.
In the second part of the story, a southern writer publishes her one work of fiction right before she dies, but it is more than a story it is message to her true love that opens with a haunting dedication: Find Our Baby. The writer's true love accidentally discovers the book when his wife's book club assigns it. This is a story of aching separation, reunion and redemption.
Ms. Green, a South Carolina writer, says: "This is a beautiful novella. It examines situations that we, as women, have all experienced. Who hasn't questioned whether she is living the life she's supposed to? Who hasn't ached for their first love? You can read the story in one or two days. Women are so busy today, and, even though they want to read, rarely have the time to read. This is a compelling story that will satisfy you in a couple of days."
If you enjoyed Nicholas Sparks' books The Notebook or Message in a Bottle, you will delight reading Under the Crescent Moon.
Under the Crescent Moon was published by BookBaby,com.