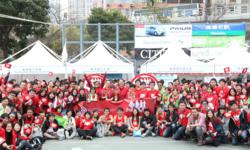 (PRWEB) February 24, 2013
With a record high number of more than 3,700 runners and more than one hundred cheering team members, The Hong Kong Polytechnic University (PolyU) has made a strong and prominent presence at today (24 February)'s Standard Chartered Hong Kong Marathon 2013. For every 19 runners on the track, one was from PolyU.
By sending forth the largest team for the international event for four consecutive years, PolyU was again presented with the Top Prize of Most Supportive Group Award, setting another new record for the Hong Kong Marathon.
A booth was set up at the Victoria Park where PolyU runners could receive free physiotherapy service provided by the University's Department of Rehabilitation Sciences.
The organizing committee of the PolyU Running Team expressed sincere thanks to all runners, cheering team members and volunteers for their enthusiastic support to this community-wide sports activity. They believed that the event would further foster a sense of belonging and unity among the students, staff and alumni.
During the run, all PolyU team members put on the specially designed team uniform sponsored by Nike. Souvenirs were generously provided by Bossini, Adidas, Burt's Bees, My Beauty Diary, Tao Ti, Hoe Hin Pak Fah Yeow Manufactory, Novartis and Maggie Beauty in support of the University's participation.
PolyU formed its debut running squad for the Standard Chartered Hong Kong Marathon in 2009. In 2011, the number of participants registered for the PolyU Running Team soared to more than 3,300, forming the biggest participating team ever for the event.