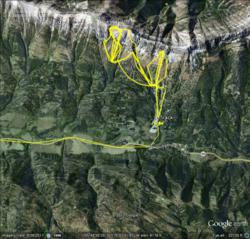 It is a very popular watch and, in our opinion, is the finest wrist top model for navigation on the market today, so we are excited to see it back in our store after a 6 week absence
Bozeman, MT (PRWEB) February 24, 2013
The Garmin fenix GPS watch will be back up and selling an updated model March 7th that has conquered the water resistance issues faced by some earlier production units according to the Heart Rate Watch Company.
"It is a very popular GPS watch and, in our opinion, is the finest wrist top model for navigation on the market today, so we are excited to see it back in our store after a 6 week absence", says Rusty Squire, President of the Heart Rate Watch Company. He adds, "One of our all-time favorite Garmin models, the Forerunner 610, overcame several early production issues and has emerged as one of the most popular GPS watches Garmin has ever made".
If one examines the 8 different firmware updates the company has already made to adapt the product it becomes quite evident that Garmin is serious about making this their "go-to" outdoor watch for mountaineering and back country athletes better. "Our chief tester John Yarington uses this watch daily skiing back country all over the world, right now he is in Kyrgyzstan", says Squire. He adds, "He loves the watch, wears it as his daily watch and until we can get him something better it will be his "go-to" fitness and navigation appliance".
Garmin fenix has Bluetooth 4.0 built in which should allow for instant upload and data transfer at some later date, similar to what the new Edge 810 and Garmin Edge 510 do. This instant data with social networks like Facebook allow users to receive a lot of instant intensity data and location data on whomever they may be following - stay tuned on this one.
The Go-To Military and Back Country Watch
No matter which way the technological winds blow the Garmin fenix has proven itself and been popular with both military personnel and back country enthusiasts alike. "The 1,000 mark-able way points give it a big leg up on Suunto Ambit for navigation purposes", says Squire. He adds, "Learning how to learn all the capabilities of this watch is sort of like trying to learn all the capabilities of the iPhone, you are better to start off with what you need".
Advance orders for the updated Garmin fenix are being taken now at the Heart Rate Watch Company and they would anticipate a mid-March delivery to consumers based upon recent Garmin updates. "The new model has been pushed back twice with the current shipping date of March 7th so we are hoping that holds firm", says Squire.