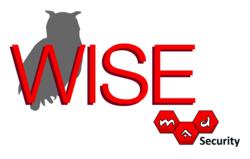 San Francisco, CA (PRWEB) February 26, 2013
MAD Security (http://www.madsecurity.com), a leading provider of information security training solutions for commercial and U.S. government agencies, today announced the release of the information security industry's first Role-based Security Awareness Training. While most organizations aim to meet compliance goals, the evolving threat environment constantly targets key employees. MAD's Workforce Information Security Education (WISE) Role-Based Awareness Training is designed to prepare high target employees for the added security burden of their roles.
"Key employees need to go beyond the usual security awareness training," says Katrina Rodzon, MAD's manager of security behavior and design and lead behavioral scientist. "Key employees are targeted frequently and need to be prepared effectively. This content was created to make sure the messages are retained, so that the people in key roles don't easily fall victim to attack."
The Role-based training features more than 30 videos designed around the NIST SP 800-16 standards, which describe the need for further InfoSec Training for key organizational roles. These roles include: C-level business executives, CIOs and IT executives, IT program and project managers, security program and project managers, IT operations, auditors, and administrative account holders. MAD's Role-based offering tailors awareness training to the users' function within the organization, which in turn allows them see where security aligns with their business and technology objectives.
"This Role-based awareness training is one of a kind," says Mike Murray, Managing Partner of MAD Security. "This training should be delivered in addition to the annual awareness training and each person who receives will effectively play their part in improving the organization's security posture. While effective traditional awareness content makes all employees the first line of defense, this content creates genuine defense-in-depth among the organization's human assets."
MAD's Role-based Awareness Training is fully compliant with standards for delivering training content and can be delivered either using an organization's existing learning management system (LMS) via SCORM packages or other delivery mechanisms. In addition, the videos are entirely accessible for those with disabilities, adhering to U.S. Federal Section 508.