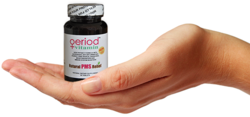 Using pain pills can provide short-term relief, but the long-term consequences of popping pain medication can be significantly detrimental.
Los Angeles, CA (PRWEB) February 26, 2013
A new report from Period Vitamin has revealed a growing number of dangers from using over-the-counter pain medications and prescription pills for PMS relief. This report reveals that as more women suffer the negative side effects from taking these pain pills for period pain relief, customers are looking for a more holistic approach to treating common symptoms from their premenstrual cycles.
The Period Vitamin news report contains some eye-opening research from around the world. For example, in a study from the Clinical Research Division of the Fred Hutchison Cancer Research Center in Seattle, researchers discovered that people taking pain pills like acetaminophen over the long-term increased their chances of liver damage and other health problems by almost 100% (ncbi.nlm.nih.gov/pubmed/21555699). This means that women who rely on common acetaminophen brands (such as Tylenol) are at risk for causing damage to their livers, as this is the organ responsible for processing the drug.
For women who take ibuprofen for PMS pain, the risks are similarly dismal. In an article published by the New York Times, athletes who consistently took ibuprofen to counteract muscle pain drastically increased their risk of damaging their intestines. Athletes who exercised strenuously were even at risk of experiencing life-threatening intestinal trauma (well.blogs.nytimes.com/2012/12/05/for-athletes-risks-from-ibuprofen-use/).
"This is exactly why we started Period Vitamin," says Uka Tumur, co-founder of Period Vitamin and nutritional supplement expert. "Using pain pills can provide short-term relief, but the long-term consequences of popping pain medication can be significantly detrimental.
"Period Vitamin, on the other hand, is a period pain relief supplement that's designed precisely for long-term use," she adds.
For women who only take pain pills for PMS pain, these risks might not seem like much cause for alarm. But just take a look on the back of any pain medication bottle to see that long-term use is not recommended. In fact, common pain medications often indicate that taking more than eight pills within twenty-four hours can cause liver damage.
With the average dose for an adult women being two pills, it's easy to see why over-the-counter pain pills can cause serious health problems for women seeking relief. But with dangerous side effects including stomach ulcers, thinning blood, kidney damage, cardiovascular events, and liver damage, the risks are quickly outweighing any short-term benefits.
"Period Vitamin is the perfect choice for discerning women who want to avoid the risk associated with long-term pain medication use," Tumur points out. "It's the perfect solution for women who are looking to maintain their optimal health while eliminating common period pain symptoms."
Period Vitamin is made up of a unique combination of vitamins, herbs, and minerals, each of which were specifically chosen for their PMS relief properties. Some of these ingredients include Vitamin D, iron, calcium, chasteberry, white willow bark, and other ingredients that have been shown to effectively reduce premenstrual symptoms.
The diversity in choice for PMS relief has been a long time coming. Proponents of Period Vitamin are pleased that a holistic alternative is available for comprehensive period pain relief. As more research reveals that over-the-counter pain medications and prescription pills are detrimental for living a healthy and happy lifestyle, customers will be pleased to know that additional options exist.
"Women deserve to know that there's a myriad of choices available in terms of comprehensive PMS relief," Tumur says with a smile. "By making Period Vitamin available, we're engaging in a conversation with women that lets them know they don't need to risk dangerous side effects just to relieve their period pain."
About Period Vitamin:
Period Vitamin was created in 2008 by a team of holistic experts with many years of experience in research the highest quality herbs, vitamins, and minerals. The makers of Period Vitamin are driven by a single goal: to provide women with the ultimate period pain relief they need to lead fulfilled and happy lifestyles. By providing women with high-quality PMS supplements, the makers of Period Vitamin are helping women live a fulfilling and active lifestyle, free from PMS pain. Experience what Period Vitamin is all about at http://www.periodvitamin.com today.
Contact: PeriodVitamin.com/contact.html
Email: CustomerService(at)PeriodVitamin(dot)com
http://www.periodvitamin.com