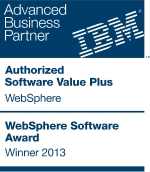 These awards are only a testament to ForeFront's commitment and dedication to its clients and partners.
Fair Haven, NJ (PRWEB) February 28, 2013
ForeFront, a leading cloud integration services firm today announced its selection as an IBM Beacon Award finalist for Outstanding Business Agility. The IBM Beacon awards recognizes IBM Business Partners who have delivered exceptional solutions. By delivering innovative solutions proven to drive business value, Beacon Award winners help transform the way their clients, their industries and the world do business.
Last year, ForeFront was awarded both "IBM WebSphere Solution Provider 2012" and "Best in Show" at the IBM Global Impact Event where they exhibited their Enterprise-to-Cloud integration client successes. The annual event this year is scheduled to take place at the Venetian Las Vegas Hotel April 28th through May 2nd. ForeFront was a sponsor in 2012 and will be participating in the event again as a featured presenter alongside their client, a fast-growing, global Wi-Fi technology pioneer and manufacturer. ForeFront's Beacon nominated solution is in fact the very same client example that will be showcased at Impact.
The Impact audience will hear an example of how a ForeFront client deployed an innovative supply-chain by leveraging Sales cloud, Service cloud and ERP cloud – with Salesforce.com, SAP and Agility Logistics systems. "We lead solution architecture by way of our proven Cloud Smart practices coupled with WebSphere Cast Iron Integration software" stated Anne Marie Berger, ForeFront Managing Partner. "The easy to use configuration-based design with robust, scalable integration performance enabled our client to respond swiftly to market demands." ForeFront will demonstrate how organizations today are accelerating time-to-market, significantly reducing costs, and increasing productivity even as volumes increase.
What differentiates ForeFront from other partners is a Business Process Management (BPM) know-how coupled with the ability to seamlessly integrate any ERP's (SAP, Oracle EBS, PeopleSoft, JD Edwards, Infor/Lawson…) to the leading cloud platforms such as Salesforce.com leveraging IBM WebSphere Cast Iron software. Anne Marie Berger went on to say "These awards are only a testament to ForeFront's commitment and dedication to its clients and partners."
Too busy to make it to Impact this year? That's ok because ForeFront and IBM bring the session to you virtually on March 20th. Register for the webinar here.
About ForeFront
ForeFront expertise spans from cloud architecture, business strategy and enterprise information integration. ForeFront has been a Salesforce.com partner for a number of years and collaborated on some of the industry's most complex integration challenges. ForeFront solutions are turnkey, proven and best practice driven. ForeFront is an awarded cloud integration leader based in the New York metro area with worldwide market reach, across industries. For more information, visit http://www.forefrontcorp.com/