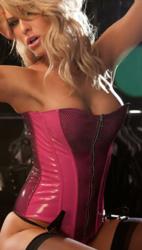 Las Vegas, NV (PRWEB) Feb. 25, 2013 (PRWEB) February 27, 2013
Feeling USA lingerie announces addition, that they have added a new line of leather, vinyl, latex and wetlook wear. The new collection includes men's and women's lingerie.
After expanding their leather lingerie collection a couple of months ago, Feeling USA has added many more affordable options, such as vinyl and wetlook to their online selection. Soft touch vinyl, a perfect imitation of leather, but with a much lower price tag, is all the rage and a great alternative to wearing leather. A number of their customers are opposed to wearing leather for moral reasons and prefer vinyl, latex or wetlook clothes.
The new collection includes corsets, teddies, bra sets, skirts and pants for women, as well as an extensive collection for men.The women's wear features lingerie and clothes in a variety of styles; ranging from hardcore biker wear to soft and romantic babydollls,corsets and lingerie sets. According to Franz Schlienger, the manager at Feeling USA, the new soft touch vinyl and brocade collection became an instant hit with their customers. To provide the ultimate shopping experience, and to allow their customers to buy an entire outfit in one place, they offer matching ultra high heel stiletto shoes, boots, gloves and chokers.
The men's wear includes an extensive leather harness selection, soft touch vinyl thongs, G-Strings, briefs, jock straps, and tank tops. Feeling USA now also offers a few novelties, e.g. a leather kilt for men; and they have extended their love and romance collection by adding eye masks, paddles, playful whips and cuffs.
FeelingUSA.com is a large lingerie store on the web, and retails lingerie, corsets, sexy clothing, costumes, bikinis, stockings, bodysuits, and high heel shoes, also specializing in plus size lingerie, as well as leather, vinyl, and latex. The company was founded in 1996 and carries close to 6'000 items in the online lingerie store. FeelingUSA provides secure e-commerce, accepts all major credit cards, and also offers Google and Paypal checkout. Worldwide shipping, free within the US, great prices, lingerie on sale, discounts, free panty, and price guarantee. The team at FeelingUSA Lingerie loves to assist and can help choosing the correct size, shipping methods, and any other question about buying lingerie. FeelingUSA makes it easy to bring sexy back into every women's life.