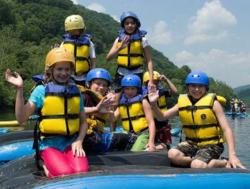 Family vacation planning is an activity pursued by parents and grandparents all year long.
Tampa, Florida (PRWEB) February 27, 2013
Family travel planning is no longer a seasonal endeavor limited to traditional summertime vacations but an activity pursued by parents and grandparents all year. TheFamilyTravelFiles.com provides insight into the changing shape of family vacations.
"Parents and grandparents planning family getaways are looking for all-inclusive holidays as well as multigenerational vacations and reunion spots," according to Lisa Duac, publisher of the popular family vacation planning site. She goes on to say, "Increased activity at our "All-Inclusive", "Secret Places", and "Free, Almost Free" folders demonstrates an interest in vacation deals, and vacations off-the-beaten path family vacations."
With uncertainty the new norm for almost everyone, family travel matters now more than ever. Almost half of all leisure trips include children or grandchildren. And for most knowing the cost of the experience ahead of time makes all of the difference in making the vacation choice.
One price, one vacation. All-inclusive family vacation options featured at theFamilyTravelFiles.com have shown a 28% increase in page views in the past year. From Purity Spring in New Hampshire and FDR Resorts in Jamaica to Ace Adventure in Southern West Virginia, all-inclusive family vacations set the standard.
Free or almost free fun and learning. The shape of the family vacation is evolving with parents and grandparents seeking ways to combine active fun and learning in the holiday. The most popular outdoor family vacation activities for spring and summer include: hiking, river rafting, tide pooling, stargazing, and biking. Any museum or zoo with hands-on programs is sure to attract families and when certain activities can be enjoyed for free, parents are eager to engage. The popularity of the "Free Almost Free" activity folder at theFamilyTravelFiles.com increased 25% during the past 12 months.
Secret family vacation places. Family vacation planners are looking for great vacation spots without long lines and traffic jams. The "Secret Places" folder had a 23% increase in views over the last 12 months. There is a desire to unplug and step a bit off the grid so it is easier to share unscheduled quality time. This puts park programs and family camps high on the list of vacation choices.
Browse through the family activity folders at theFamilyTravelFiles.com to see hundreds of family vacation ideas featuring not just all-inclusive or secret places but also free or almost free family fun and engaging educational experiences.
About theFamilyTravelFiles.com. Founded in 1998, theFamilyTravelFiles.com is one of America's top-rated online family travel resources offering more than 1000 pages of family vacation ideas and trip planning information. The website specializes in family vacation ideas, destination and planning information, family travel advice, and family travel deals. The site features a number of vacation idea folders including All Inclusive, Secret Places, Family Golf, Beaches, Camp Out and more.
Lisa A Duac Publisher (813) 968-4799 or publisher(at)theFamilyTravelFiles(dot)com
Nancy Nelson-Duac (817) 573-6920 or editor(at)theFamilyTravelFiles(dot)com