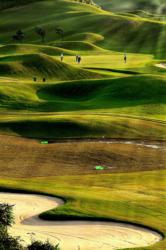 Finally, golfers can now make use of a true web 2.0 platform to discover the best destinations.
Amsterdam, the Netherlands (PRWEB) February 27, 2013
Good news for passionate golfers: This month, a brand new travel website was launched that focuses on golf trips only: Like2Golf.com aims to stand out from its competition with an innovative explorer, a sleek and visual design, and advanced social features. It serves its members in every phase of their golf-related holidays: dreaming, planning, booking, traveling and post-trip sharing.
Fun browsing with location-based photos & videos
In the discovery phase, golfers can get inspired by browsing through "must-play golf courses" and "must-stay golf resorts", handpicked by members of the website. Reviews are available for these places, but the main focus is on location-based photos and videos which makes the browsing intuitive and fun. Deep integration with Facebook allows users to also get inspired by following the activities of their golfing friends: You can see where your friends have been golfing, where they wish to play in the future, and check out their photos and videos.
Personalised travel recommendations
Golfers can also use a sophisticated explorer to discover the perfect destination for a golf holiday in a matter of seconds. The most popular golf destinations worldwide can be filtered based on the most important criteria in a golf break: Is the destination suitable for beginners or for experienced golfers? Is a sufficient variety of golf courses present in the region? Are there any stay & play golf resorts available? Last but not least, the number of locations can be narrowed down based on the expected air temperatures and the odds of rain in any given month.
Compare golf resorts "TripAdvisor-style"
Once the right destination has been found, Like2Golf continues to assist its members with their planning and booking activities. Golf courses and resorts can be saved to a wishlist and users can opt-in to receive the latest insider tips for these places. Rates for stay & play golf resorts can quickly be compared - in the same way as TripAdvisor - via Like2Golf's partners: Booking.com, Expedia, eBookers.com and Agoda. The reservation of tee times is currently not yet supported, but this feature will likely be added in the near future.
Share your golf trips "Facebook-style"
During the trip and back home, you can save your visited spots to your "passport" and share your location-based photos and videos in a Facebook-style. These shared items can get likes, be added to the passports and wishlists, and win prizes in a bi-monthly contest. The cycle can now start all over for the next golf trip.
A site by 4 Elements Travel
Like2Golf.com is an initiative by 4 Elements Travel, an Amsterdam-based startup that previously launched similar platforms Like2Dive.com and Need2Kite.com, which cater to scuba divers and kitesurfers respectively. Founder Anthony Viellevoije is proud to launch the third website: "After having developed our website in the kitesurfing and scuba diving niches, we are now very pleased to enter the golfing scene. Finally, golfers can now make use of a true web 2.0 platform to discover their next destination and easily book their golf resorts online."
Check out http://www.Like2Golf.com.