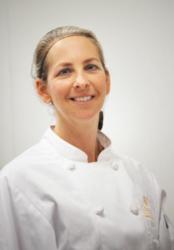 "It is important to me to prepare and eat foods that are appealing while providing health benefits,"
Venice, FL (PRWEB) February 27, 2013
Carol Urofsky, an award-winning pastry chef with additional editing skills, recently joined Omega3 Innovations as Product Manager.
Urofsky – who worked as an editor and proofreader in Florida and New Hampshire – also held positions as pastry chef and culinary classroom instructor in New Hampshire, Rhode Island and Munich, Germany.
She also owned her own retail pastry and confection business for several years in Rhode Island, according to Dr. Anne-Marie Chalmers, co-founder of the Venice-based bio-tech company that creates heart-healthy fish oil- and soluble oat fiber-based cookies and chocolates.
"We're very happy to have Carol join us," Chalmers said. "She brings to us a wealth of experience in both making chocolates and marketing. It is critical to have staff who understand the care needed from initial sourcing of raw ingredients through production, packaging, storage and shipping, until they arrive safely on your kitchen table."
Urofsky graduated magna cum laude with a bachelor's degree in physical education from Temple University in Philadelphia, and has an associate's degree in baking and pastry arts from Johnson and Wales University in Providence, R.I. In her spare time she enjoys running and speed skating and now is also involved with competitive swimming.
In her new position at Omega3 Innovations, she will be responsible for the production of several new products like the Omega Heaven and Omega Passion.
About Omega3 Innovations: Founded by Bo Martinsen, M.D., and Anne-Marie Chalmers, M.D. – two physicians who have worked with omega-3 fish oil for more than 15 years – the company offers several varieties of Omega Cookies, as well as Omega Cure supplements. Each Omega Cookie contains seven capsules worth of omega-3 fish oil, five grams of fiber, 200% of the daily value of vitamin D and 35% of the daily value of calcium. The company was named a winner in the category of innovation at the 2010 annual Economic Development Corporation of Sarasota County's Hall of Fame awards. The honor came as the result of being the first company to create a bakery product that contains an effective dose of omega-3 fish oil.
For more information about this release, please contact: Anne-Marie Chalmers, M.D., Omega3 Innovations president, 941-485-4400 or am(at)omega3innovations(dot)com