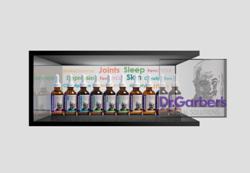 Guillaume Lois, retail representative for Dr. Garber's Natural Solutions® will be able to be reached by cell phone to schedule meetings with he or Dr. Garber during the conference @ 310 736 0770.
Santa Monica, CA (PRWEB) February 28, 2013
Dr. Garber's Natural Solutions®, condition specific natural remedies including anxiety, depression and sleep, will be featured in the New Products Showcase display at Natural Products Expo West, taking place at the Anaheim Convention Center, March 8-10, 2012. The show floor hours are on Saturday from 10:00 am – 6:00 pm and Sunday from 10:00 am – 4:00 pm.
BrandStorm HBC will represent Dr. Garber's Natural Solutions® at Booth #1014 Hall A / supplements. Guillaume Lois, CEO at Brandstorm HBC and retail representative for Dr. Garber's Natural Solutions® can be reached by mobile phone @ 310 736 0770 to set up meetings with Dr. Garber or Mr. Lois during the 3-Day conference and show.
Dr. Garber's Natural Solutions® is a unique line of formulas that safely and effectively address many of the most common conditions while producing no harmful side effects. The product line includes remedies that help conditions such as anxiety, environmental and seasonal issues, bone strength, constipation, depression, female hormonal balance, joint issues, lung, skin and sleep disorders.
These great tasting and easy to use formulas are the first and only that exclusively combine the three biotherapies in a special synergy critical to their effectiveness, Dr. Garber has been able to target specific conditions in a unique and previously unattainable way.
Dr. Stuart H. Garber, D.C., PhD has been practicing holistic medicine since 1981. He has lectured to medical, dental, chiropractic and acupuncture groups in the United States, Europe, Asia and the Caribbean. In 1997 Dr. Garber became the first person in the United States to receive a Ph.D. degree in homeopathy. He is the developer of Dr. Garber's Natural Solutions line of condition specific biotherapy formulas that are sold in Whole Foods Stores in California, other retail outlets, Amazon, through doctors offices and his website, http://www.drgarbers.com. He practices in Santa Monica, CA where he also conducts research in dietary supplements and homeopathic medicine.
Brandstorm HBC is dedicated to Health and Beauty Care, offering Natural products found throughout France, Spain, South America, Canada and the United States in the Supplements and Homeopathic categories. All of BrandStorm HBC products respond to the highest quality requirements and offer innovative solutions for health and beauty care. Founded by Thierry Ollivier, the founder of BrandStorm Inc. and by Guillaume Lois, who respectively hold over 15 years of experience in both the organic product industry and Homeopathic industry.
The product display was designed by MINARC, internationally renowned architectural and design firm located in Santa Monica, CA.