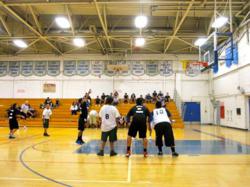 Santa Ana, California (PRWEB) February 27, 2013
THINK Together has been awarded a $66,000 grant from the LA84 Foundation to support intramural sports that take place during extended learning time programs at 22 middle schools in Los Angeles County.
The LA84 Foundation, which is endowed by surplus funds from the 1984 Olympic Games, supports a wide array of youth sports by awarding grants to youth sports organizations within eight Southern California counties.
"Promoting health and wellness is a big part of what we do," said Anne Turner, executive director of THINK Together in Los Angeles. "Many of the youth who we serve at THINK Together live in poverty and have little or no access to programs that provide a safe environment for playing competitive sports. Thanks to the LA84 Foundation, we can help change that."
According to a report by the Center for Public Health Advocacy and the UCLA Center for Health Policy Research (June 2012), the cities served by THINK Together in have some of the highest rates of youth obesity in the county with overweight/obesity rates ranging from 42% in Duarte to 50% in El Monte.
In addition, state budget cuts have prompted school districts throughout California to remove sports programs after school.
This past year, thanks to the funding of the LA84 Foundation, THINK Together was able to fill that gap and provide basketball, soccer, boys flag football and girls volleyball opportunities for middle school students during extended learning time programs after school.
This new funding will help expand these sports activities to 22 schools, serving more than 2,000 students.
About THINK Together
With more than $60 million in annual revenue, THINK Together is one of the leading and largest nonprofit providers of academic support programs (early literacy, after-school, small group tutoring, summer learning, etc.) in the U.S., serving more than 100,000 students across 420 locations in 35 school districts and more than 30 cities across a five-county footprint of Southern California (Los Angeles, Orange, Riverside, San Bernardino and San Diego) plus greater Sacramento. Partnering with school administrators and teachers, its academically oriented programs and dedicated team of 2,500 employees are helping students close the achievement gap. THINK is an acronym: Teaching, Helping, Inspiring & Nurturing Kids. For more information, call (888) 485-THINK or visit http://www.THINKtogether.org or http://www.facebook.com/THINKtogether.