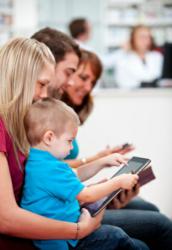 The ability to combine patient-reported medical history with genetic test results and genomic data across hundreds of rare diseases could open the door to non-obvious discoveries between seemingly unrelated disorders.
San Mateo, CA (PRWEB) February 28, 2013
In honor of today's Rare Disease Day, PatientCrossroads has issued an invitation to rare-disease organizations – patient advocacy groups, pharmaceutical companies and medical researchers – to become Registry Partners in a new shared, open-access patient registry able to collect data on any disease, from the most rare to more common disorders.
Supported by a grant from Novartis Pharmaceuticals Corporation (NPC), PatientCrossroads will announce the selected organizations and launch CONNECT, an openly available patient registry worldwide in April 2013. Up to 40 advocacy organizations representing specific disease communities will be selected for a short beta test and will be recognized as official Registry Partners at the launch. After the initial beta period, the program will be made widely available in hopes of collecting patient-provided medical history data on behalf of hundreds of disease communities and sharing de-identified information openly with researchers, clinicians and the wider disease community.
"As the leading independent provider of patient opt-in registries, PatientCrossroads is uniquely positioned to provide a secure, economical and consistent method to collect data on many diseases in a single registry – and to make de-identified patient data more transparently available to researchers, pharmaceutical companies, advocacy, governments, and patients," said Kyle Brown, founder of PatientCrossroads. "PatientCrossroads was established on the values recently echoed by the EURORDIS-NORD-CORD Joint Declaration of 10 Key Principles for Rare Disease Patient Registries, and our new program amplifies our long-standing support for these principles. With the generous support of NPC, we look forward to launching the open-access registry to help identify and quantify rare diseases."
Everyone in the Rare-Disease Community Benefits
Establishing an open-access, freely available patient registry strengthens and accelerates the efforts of everyone involved in diagnosing, researching, treating and living with rare diseases.
"Sponsoring the PatientCrossroads open-access patient registry program reinforces Novartis' commitment to patients," said Dr. John Orloff, senior vice president and chief medical officer at NPC, an affiliate of Novartis AG, a global healthcare company that provides innovative healthcare solutions that address the evolving needs of patients and societies. "This innovative program ensures open access to patient-provided medical history that is critical in understanding disease progression and, ultimately, in identifying clinical trial participants that can accelerate treatments."
"The ability to combine patient-reported medical history with genetic test results and genomic data across hundreds of rare diseases could open the door to non-obvious discoveries between seemingly unrelated disorders," said Dr. David Ledbetter, executive vice president and chief scientific officer at Geisinger Health System, an integrated health services organization that is one of the largest U.S. healthcare providers. "Such pan-disease discoveries are possible only when data from patients with multiple disease types are pooled and managed in a single repository."
"The Erdheim-Chester Disease Global Alliance is very excited to hear that Patient Crossroads will be offering a new model for patient registry services to rare disease patient advocacy organizations. Patient registries are vital to allow the connection of researchers to patients to learn more about the disease and aid in the development of standardized treatment protocols and insight for clearer prognoses." said Kathy Brewer, president of ECD Global Alliance, an advocacy organization for the extremely rare Erdheim-Chester Disease (ECD). "This new approach presents a great opportunity for small rare disease communities to implement a cost-effective registry without a large investment. It's a great way to leverage expertise that small advocacy organizations are unable to acquire on their own, yet still take advantage of all the benefits a patient registry has to offer."
How the New Open-Access Patient Registry Works
The open-access registry is a full-fledged version of PatientCrossroads' registry platform. This proven technology was selected to power the NIH Global Rare Diseases Registry program and the NICHD Down Syndrome registry, and it is in use by numerous disease advocacy, research and academic organizations worldwide.
PatientCrossroads will operate the registry and serve as the custodian of the data, ensuring that everyone has equal and equitable access to this valuable patient information. PatientCrossroads safeguards the privacy of patients by acting as the trusted gatekeeper of patient contact and privacy preferences. Geisinger Health System will explore the role for their Institutional Review Board to provide oversight and ensure patients are protected.
"As with our foundation-sponsored registries, the new open-access registry model means that patients retain ownership of their medical data and control over whether they opt in or out of sharing their information for research," said Brown. "We are very grateful to patients for allowing us the privilege to use their de-identified data to further research, and PatientCrossroads' number-one priority is to honor their trust."
PatientCrossroads will continue to offer patient registries to organizations that require the ability to be in control of patient data to support more advanced programs. With the new open-access patient registry, PatientCrossroads now enables organizations representing even the rarest diseases to quantify their patient population and raise the visibility of their community to researchers.
In the freely available registry, de-identified patient data will be available free of charge to the rare-disease community and qualified academic researchers; more advanced services and access may require a fee. Portions of the de-identified data will be contributed to the NIH Global Rare Diseases Registry program to provide transparent access.
Advocacy organizations can become Registry Partners at no cost by completing a marketing agreement outlining minimum marketing and outreach requirements. In return, organizations will be co-branded on disease-specific pages of the PatientCrossroads registry website and will have access to de-identified patient information. Registry Partners also have the ability to sponsor disease-specific medical questionnaires to capture even more detailed information that could further raise the visibility of their rare disease.
How to Apply to Become a Registry Partner
Organizations interested in becoming Registry Partners can learn more and complete a short online application form at http://www.patientcrossroads.com.
About PatientCrossroads
PatientCrossroads provides registry systems that connect disease communities with scientists studying those conditions. Offering software, technology, management and data curation services, PatientCrossroads registries collect data on more than 250 rare diseases and power the NIH's Global Rare Diseases Registry (GRDR) and the NIH NICHD Down Syndrome registry. PatientCrossroads is a full partner in Europe's RD-Connect platform ensuring global, open access to patient-provided medical histories. For more information, visit http://www.patientcrossroads.com.
For more information, contact:
Kyle Brown, PatientCrossroads
kyle(at)patientcrossroads(dot)com
(650) 678-8929