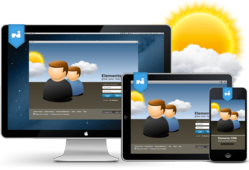 we are celebrating 7 years in business helping Mac companies manage their businesses more efficiently
Grand Forks, ND (PRWEB) February 28, 2013
Ntractive celebrates their 7th year as the developers of Elements CRM, a cloud-based Mac Customer Relationship Management (Mac CRM) Solution for Mac business and enterprise worldwide. Ntractive is reinventing the CRM Experience for Mac users all over the world with their Elements CRM solution.
Ntractive was officially formed in February of 2006. Their sole product, Elements CRM, was in its mid-stages of development, and was a brand new concept to the world of Mac businesses. Elements CRM is considered a hybrid web app - built on Mac OS X and the cloud. Due to their hybrid web app approach, Ntractive was asked to present at the Apple WWDC (World Wide Developer Conference) IT State of the Union in 2007 to showcase the technology which was ahead of its time in 2007.
Since 2006, Ntractive has added more products to their Mac CRM line-up including a Mail app that connects your email account to Elements CRM, an Elements CRM iPad App which works in conjunction with the desktop app, and a slimmed down version of Elements CRM for the iPhone.
The cloud continues to be the central hub for this growing Mac CRM company. Their official product launch at MacWorld 2008 has proven to be a rapidly growing success as the popularity of using Macs, iPhones and iPads for business has exploded worldwide.
Justin Bartak, the company's Founder, CEO & Chairman, recalls the early days of Ntractive. "It seems like only yesterday, I was drawing the first designs of Elements CRM on my white board. And now we are celebrating 7 years in business helping Mac companies manage their businesses more efficiently. It's been a rewarding journey, and we continue to be as excited about the Mac business market as we were back in 2006."
About Ntractive
Ntractive is the Mac Customer Relationship Management (Mac CRM) company that develops Elements CRM. Ntractive is changing the way companies collaborate, work and communicate on the Mac and iOS Devices. The company's Elements Platform, which is part desktop and part cloud, is powered by Webkit. Webkit is the open source browser engine that is used by Safari, the iPad and iPhone and many other applications. To learn more about Ntractive, go to http://www.ntractive.com
© 2006-2013 Ntractive, the Ntractive logo, Elements CRM, and the Elements CRM logo are trademarks of Ntractive, LLC. Other company and product names may be trademarks of their respective owners.