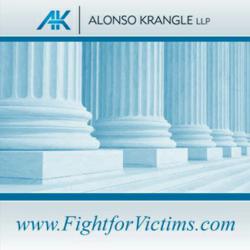 If you've been suffered a Da Vinci robotic surgery complication or injury, contact Alonso Krangle today at 1-800-403-6191 or visit our website, FightForVictims.com.
Melville, NY (PRWEB) April 02, 2013
Alonso Krangle LLP, a law firm focused on fighting for the rights of victims of harmful medical devices, is questioning marketing claims involving the Da Vinci Surgical System, a robotic surgery system used in minimally invasive surgeries, including hysterectomies, prostate removals, heart surgeries, gall bladder removals and bariatric surgery. New research, along with a growing number of Da Vinci Robotic Surgery lawsuit filings, as reported by streetinsider.com, have recently cast doubt claims that the device offers patients more benefits compared to traditional laparoscopy. Most recently, a study published earlier this month by the Journal of the American Medical Association (JAMA) found no difference in complication rates among women who underwent robot-assisted hysterectomy and those who had a traditional laparoscopic procedure. However, the same study found the robotic procedure cost significantly more than laparoscopy.
(http://jama.jamanetwork.com/article.aspx?articleid=1653522)
Alonso Krangle is currently offering free Da Vinci Robotic Surgery lawsuit consultations to victims of alleged robotic surgery complications, including:

Surgical Burns to Arteries or Organs
Peritonitis (painful and tender inflammation of the lining of the abdomen)
Sepsis
Excessive bleeding
Burning of nearby organs including the intestines
Punctured blood vessels, organs or arteries
Burns and/or tears of the intestines
Severe bowel injuries
Punctured or cut ureters
Vaginal cuff dehiscence (reopening of the incision made to remove the uterus and cervix during a hysterectomy)
Additional Surgical Procedures Following Robot Surgery
Wrongful Death
To discuss a potential claim with one of the experienced and compassionate Da Vinci Robotic Surgery complications lawyers at Alonso Krangle LLP, please contact us at 1-800-403-6191 or visit our website, http://www.FightForVictims.com.
According to a report published by the Chicago Tribune in February 2012, 250,000 hysterectomies and prostate removal surgeries were done with the Da Vinci system in 2011. The device is now used in surgeries involving everything from gastric bypasses to thyroid cancer. Unfortunately, few randomized studies have been conducted to demonstrate that patients do best if procedures are performed with the Da Vinci, according to the Tribune.
[http://articles.chicagotribune.com/2012-02-25/news/ct-met-robot-20120225_1_robot-assisted-intuitive-surgical-prostate-removal-surgeries
The JAMA study looked at outcomes in 264,758 women who had either laparoscopic or robotically assisted hysterectomy at 441 hospitals between 2007 and 2010. The complication rate for both groups came in at around 5%. Most patients in either group left the hospital in less than two days, though patients who had robotic surgery were slightly more likely to go home this early. However, robotic hysterectomy cost an average of $8,868/procedure, compared with $6,679 for laparoscopic surgery. "Our study indicates that, while robotic assistance was associated with increased use of minimally invasive surgery for hysterectomy, when compared with laparoscopic hysterectomy, the robotic procedure offers little short-term benefit and is accompanied by significantly higher costs," the research team wrote.
According to a recent report from StreetInsider.com, Intuitive Surgical has been named a defendant in nine Da Vinci Surgery Robot lawsuits filed on behalf of people who suffered gruesome injuries, allegedly due to defects inherent in the device. Last summer, the U.S. Judicial Panel on Multidistrict Litigation (JPML) rejected a motion to consolidate all Da Vinci Robotic Surgery lawsuits pending in federal courts in a single jurisdiction for pretrial proceedings. Court records indicate that at that time, only four claims were pending in federal court.
(http://www.streetinsider.com/Analyst+Comments/Bloom+Could+Come+Off+Intuitive+Surgicals+%28ISRG%29+Rose+as+Lawsuits+Fly+-+Citron/7960336.html)
(http://www.masstortdefense.com/uploads/file/robotnomdl.pdf)
Victims of alleged Da Vinci Robot complications may be entitled to compensation for their pain and suffering. To discuss a potential Da Vinci Surgery Robot lawsuit with one of the experienced and compassionate medical device injury attorneys at Alonso Krangle LLP, please contact us at 1-800-403-6191 or visit our website FightForVictims.com.
About Alonso Krangle LLP
Andres Alonso and David Krangle, attorneys with almost 40 years of collective legal experience, have focused their law practice on the handling of significant personal injury cases, defective drug and medical device litigation, construction site accidents, nursing home abuse, medical negligence, qui tam/whistleblower actions and consumer fraud cases. A national law firm representing injured victims throughout the U.S., Alonso Krangle LLP is headquartered in Long Island, New York, with offices in New York City, and New Jersey.
For more information about Alonso Krangle or to join the fight and be a part of our team, please contact us at 1-800-403-6191 or visit our website, FightForVictims.com
Contact: Alonso Krangle LLP
445 Broad Hollow Road
Suite 205
Melville, New York
11747
Toll-FREE 1-800-403-6191
Tel: 516-350-5555
Fax: 516-350-5554