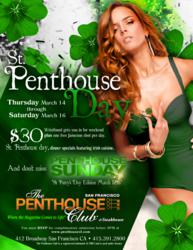 Penthouse is an upscale club giving a special offer that anyone can participate in
San Francisco, CA (PRWEB) March 09, 2013
San Francisco adult club Penthouse Club and Steakhouse is celebrating St. Patty's Day by offering a rare deal to patrons. Gain access to the club from Thursday, March 14 through Saturday March 16 for the more than reasonable price of $30. In addition to getting into the club, each guest buying the package gets a free shot of Jameson each day.
"Penthouse is an upscale club giving a special offer that anyone can participate in," said Axel Sang of Penthouse. "You don't want to miss out on this rare occasion."
San Francisco strip club Penthouse also urges it's guests not to miss out on "St. Penthouse Day" on St. Patrick's Day Sunday, March 17.
Noted as a San Francisco best strip club, Penthouse Steakhouse and Club is also serving up a host of delectable dishes including some traditional Irish meals. All food selections are crafted by prepared by Michelin Star-rated chef Michael Ellis.
As with each night, Penthouse feature their beautiful "Key Girls" performing onstage and are available for lap dances, table dances and private dances as well.
Located at 412 Broadway Avenue, the Penthouse Club & Steakhouse in San Francisco is independently owned and operated, and is open 7 days a week. Bottle service and dinner reservations can be made at http://www.penthousesf.com, on Open Table, or just call (415) 391-2800.
About Penthouse Club and Steakhouse San Francisco
The Penthouse Club and Steakhouse San Francisco has taken upscale adult nightlife in San Francisco to an entirely new level. Featuring the top exotic dancers from around the country, the 15,000 square foot. The San Francisco gentleman's club combines the best in adult entertainment with some of the finest dining in the City—including mouthwatering steaks, seafood and pastas prepared by Michelin Star-rated chef Michael Ellis.
The Penthouse Club and Steakhouse's distinctive design features include a massive 20-foot tall video wall, LED light curtains, gigantic, see-through champagne display cabinet, video-embedded cocktail tables, intimate private dining booths, and a refrigerated and illuminated ice rail built into the main bar to keep guests' drinks cold.