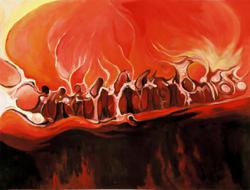 Chronic pain affects more than 75 million people in the United States and is a significant clinical and public health problem impacting individuals, families, and the workplace.
Biddeford, Maine (PRWEB) March 31, 2013
Chronic pain affects more than 75 million people in the United States and is a significant clinical and public health problem impacting individuals, families, and the workplace. The University of New England's (UNE) 2013 Spring Symposium on April 4th presents many faces of pain through evidence-based research, patient narratives, family stories, and artistry that translate pain in vivid and powerful ways. The symposium events brings together over 900 health professions students, 100 faculty and a wide variety of distinguished guests for a day of immersion in the subject of pain, and the skills necessary to respond effectively, safely and empathetically to those living with chronic pain.
University of New England educates more health-care professionals than any other institution in Maine, and is a national leader in interprofessional education—defined as two or more professions learning about, from and with each other to improve patient-centered care. The symposium includes UNE students from 13 different health professions as well as those from the College of Arts and Sciences who are currently in pre-professional training.
A powerful student-made video, entitled "A Community in Pain," shares compelling stories of people living with pain and its effects, through personal interviews with those affected. UNE is also honored to present a case study of a patient and family willing to tell their story of living with Complex Regional Pain Syndrome.
UNE's Interprofessional Spring Symposium will be delivered in the style of a TED talk. Keynotes by four nationally recognized pain experts during the morning session include: David A. Thomas, PhD, National Institute on Drug Abuse, National Institutes of Health; Judy Watt-Watson, RN, MSc PhD, President of the Canadian Pain Society; Kathleen A Sluka, PT, PhD, Professor of Physical Therapy and Rehabilitation Science at the University of Iowa, Director of the Neurophysiology of Pain Laboratory; and Kandyce Powell, RN, M.S.N., Executive Director of the Maine Hospice Council and Center for End of Life Care.
Afternoon sessions include roundtable discussions and additional breakout sessions on topics such as the Maine predicament of prescription drug overdoses, and video case narratives from the Chronic Pain Support Group of Southern Maine. WGME-Channel 13 News anchor Kim Block will emcee a panel discussion with keynote speakers and individuals whose lives are affected by chronic pain conditions.
A UNE cross-college coalition will prepare a multi-media arts component reflecting on the theme, with photography, narrative, video, and paintings. Additionally, Add Verb Productions will work with faculty and pain patients to dramatize parts of patient stories as they have navigated the health care system and their efforts to eliminate their pain.
Click here for a full schedule of the day's events.
About University of New England
The University of New England (UNE) is an innovative health sciences university grounded in the liberal arts, with two distinctive coastal Maine campuses and unique study abroad opportunities. UNE has internationally recognized scholars in the sciences, health, medicine and humanities; offers more than 40 undergraduate, graduate and professional degree programs; and is home to Maine's only medical school. It is one of a handful of private universities with a comprehensive health education mission including medicine, pharmacy, dental medicine, nursing and an array of allied health professions. UNE's interprofessional education initiatives prepare future healthcare professionals to practice comprehensive and collaborative team-based care. Both graduate and undergraduate students engage in research and scholarship alongside dedicated faculty who are committed to their academic and professional success.
The UNE Center for Excellence in Interprofessional Education brings together the vibrant and innovative resources of UNE to create educational programming responsive to the evolving needs of the 21st century collaborative healthcare workforce. CEIPE initiatives are multi-level and intended to influence the culture of health education and healthcare practice across domains.