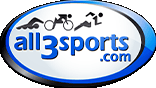 DREAM BIG. DREAM FAST.
Atlanta, GA (PRWEB) April 24, 2013
All3sports.com announced today their 72-hour celebration sale, "Happy Birthday To Us", beginning Thursday, April 25 and running through Saturday, April 27, 2013. As one of the largest stores of its kind in America, all3sports.com is passing on 20% savings on triathlon gear, including triathlon apparel, swimwear and running gear, as a way to say "Thank You" to their valued customers for supporting their 11 years in business.
Voted the Top Triathlon Retailer by Triathlon Business International (TBI) for the past 3 years, the company is sharing their success with others. Possessing an extensive inventory of the top triathlon gear brands in the industry, the company's first female president and owner, Morgan Clark, is a triathlete herself, commenting recently, "we have a customer first-mentality and are passionate about our sport."
Besides Clark, much of the staff is comprised of triathletes, which has undoubtedly contributed to the company's commitment and expertise in meeting customer needs. By having personal experience with many of their own products, all3sports staff offers a unique perspective and education which provides authority and reliability to other athletes. "It's our lifestyle," adds Clark, a lifestyle that is being shared through the 72-hour birthday celebration sale beginning Thursday.
In addition to all3sports' inventory and personnel makeup, the company offers the RETUL bike-fitting system, further setting them apart from other triathlon retailers. The RETUL system provides comprehensive cycle-specific motion-capturing accuracy, an advantage for both the professional and leisure triathlete alike.
To enjoy 20% savings on the company's ecommerce site, customers must use coupon code "BDAY20". For further information about "Happy Birthday To Us" promotion exclusions, please visit http://www.all3sports.com/coupons.
About all3sport.com:
All3sports and all3sports.com opened their retail doors in Atlanta, GA as a destination store and internet-based ecommerce business in April of 2002. Purchased in 2008 by current president and owner, Morgan Clark, the company has been voted Top Triathlon Retailer by Triathlon Business International for the last 3 years running. All3sports carries the industries' leading brands and top products of triathlon gear, serves as a unique education source for athletes, and provides a 'customer first' focus, all of which is designed to meet the needs of the triathlon industry.