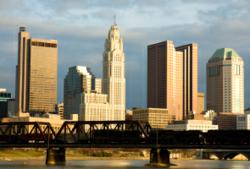 Columbus, Ohio (PRWEB) April 09, 2013
Medigistics, leading provider of medical billing and accounts receivable management solutions, will be celebrating their 52nd year assisting healthcare professionals this spring. Medigistics offers superior medical billing solutions for both hospital and office based practice.
Established in 1934 as the Columbus Bureau of Medical Economics by Mr. Standley R. Mauck to assist physicians with carrying out the business side of their practices the company started to offer bookkeeping and billing services in the 1950's. The medical billing service was a pioneer in their field by being one of the first to submit claims electronically to Medicare and Blue Cross/Blue Shield.
In the beginning billing was as simple as copying and mailing ledger cards used in physician's offices to post chargers and payments to. Since then, especially with the introduction of computers, the process has become much more complex. Today, Medigistics uses a mix of purchased and proprietary software to produce results for clients that exceed industry standards.
Gary Broughman, treasurer of Medigistics says the company is proud of it's history of innovation and helping physicians navigate the complexities of reimbursement and compliance. A retiring physician had this to say about Medigistics "This will end my forty plus years of service, and the forty plus years of using your company for my billing. I have always found your company to be professional and a pleasure to work with".
The revenue cycle management company aims to improve efficiency and increase profits for all of their healthcare clients. By offering solutions for all healthcare billing needs, clients are able to concentrate on the wellness of their patients.
About Medigistics:
Medigistics, an employee owned company based in Columbus, Ohio, is a full service multi-specialty medical revenue cycle management solution. We are expert at converting healthcare provider's hard work into revenue for their respective business. All services for our clients are performed by our employees in our office in Ohio. To learn more about how you can put our 52 years of experience to work for you contact us at 1-800-282-0738 or visit http://www.medigistics.net.