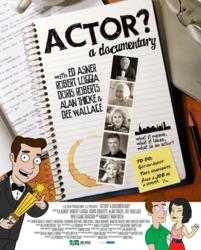 What it means, what it takes, what it is to be an Actor.
Los Angeles, CA (PRWEB) April 10, 2013
"Actor?" is the first ever feature film in documentary history to be animated. It details the trials and tribulations of actors: working or 'resting.' "Actor?" screens May 16th at 1:30pm & May 18th at 3:30pm, and both screenings will take place at the Palais du Festival F in Cannes.
The 76-minute film culls the best from interviews with hundreds of actors, some big stars and some character actors. Beloved celebrity interviewees include Ed Asner ("Up"), Doris Roberts ("Everybody Loves Raymond"), Robert Loggia ("Big"), Alan Thicke ("Growing Pains"), Wolfgang Bodison ("A Few Good Men") and Dee Wallace ("E.T."), as well as many others.
The "Actor?" interviewees discuss the profession in-depth from all perspectives and their many insights may surprise audiences. The film cleverly fuses animation with documentary by using two animated figures, Lou and Ping, who explore what it means to be actors, how to do it and what to expect from the career as they intersect with our celebrities.
Mr. Rich wanted to render the subject from a fascinating new angle -- a documentary done with animation. "The acting profession is really like any other profession. The big stars amount to only a small part of the business. The 99 percent who are not big stars struggle to find roles and work for union wages," states Rich.
Director David Rich is available in Cannes from May 15 through May 26 to attend the market screenings and will be available for onsite meetings.
About DB RICH PRODUCTIONS
DB Rich Productions, founded in 2008, has other projects in development. The "Lighthouse," a dramatic thriller starring Danny Glover is currently in post-production, and "Margarine Wars," a romantic comedy set during America's Summer of Love is with their distributor Ytinifni Pictures for worldwide distribution. In addition, DB Rich Productions will be actively seeking partners and pre-sales for their next project, "Through Maria's Eyes." A movie based on a true story of survival against insurmountable odds.
MEDIA CONTACT:
Annie Jeeves / Toula Mavridou-Messer
Cinematic Red
Phone: 323.834.9733
Email: annie(at)cinematicred(dot)com / toula(at)cinematicred(dot)com