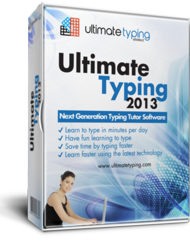 According to the reviewer, touch typing needs to be automatic and subconscious, without the mind being engaged with the actually typing process.
New York City, NY (PRWEB) April 05, 2013
eReflect, software company and developer of Ultimate Typing™ revealed today that the typing software is structured in such a way that it easily boosts typing efficiency by increasing the user's focus on the given typing task. Ultimate Typing™ software user Noline, provides an in-depth review of the software in her effort to inform interested people on what to expect and what they will gain with Ultimate Typing™, her review is published in Squidoo.
Ms. Noline's review is lengthy and by extension very detailed, she touches upon crucial typing aspects like the ergonomics, the instructional video tutorials, the quality of typing games and drills, even some minor glitches and her overall experience with and verdict on Ultimate Typing™.
One of the reviews' highlights is the user's remark on how touch typing should be consider the medium for expression rather than the task per se. According to the reviewer, touch typing needs to be automatic and subconscious, without the mind being engaged with the actually typing process. For her readers' better comprehension, Ms. Noline suggests how touch typing is very similar to talking when it comes to the essential, underlying process taking place; both are done largely on a subconscious level, allowing to think, create and express oneself. For the reviewer, a person with poor typing skills becomes self-conscious of their typing skills and tasks inhibiting the productive or creative process they should otherwise be enjoying.
Noline argues that typing software like Ultimate Typing™, offer a variety of different typing drills and practices that gradually transform the most inexperienced typist into a very adequately skilled one. Drawing from personal experience, the reviewer, Ms. Noline insists that the typing software is organized in such a way so as to deal with one bad typing habit at a time. She reveals how despite her typing being adequate it was filled with all the wrong habits, slouching, wrists being too stressed, looking continuously up and down her keyboard, all of which compromised her typing speed. Within a few weeks of practicing for about 10 minutes per day, Ms. Noline according to her review was able to improve her typing accuracy and increase her typing speed.
The review concludes on how touch typing skills are these days a necessary qualification for most professions allowing people to be more productive and efficient at what they do.
For more details on Ultimate Typing™ please visit http://www.ultimatetyping.com/.
About Ultimate Typing™
Ultimate Typing™ software is designed specifically for the improvement of typing skills. Created by eReflect, a world leader in e-learning and self-development software, Ultimate Typing™ has been informed by the latest developments in the science of touch typing.
Since its creation in 2006 by Marc Slater, the company has already catered to over 112 countries all over the world, offering products with the latest cutting-edge technology, some of which are among the world's most recognized and awarded in the industry.