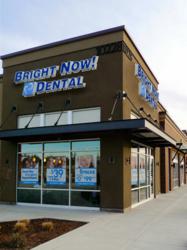 When I work with patients, I make sure to treat their teeth as if they were my own.
Irvine, Calif. (PRWEB) April 19, 2013
Smile Brands Inc., one of the nation's leading providers of business support services to dental groups in the United States, is today announcing the grand opening of another affiliated Bright Now! Dental office. The office is located in the Westchester area of Los Angeles, Calif. and is the 63rd affiliated dental office of Smile Brands in Southern California.
Located at 8611 S Sepulveda Blvd, Los Angeles, CA 90045, in the Westchester Shopping Center, this new LA-area dental office provides families with a convenient, comfortable environment where they can receive the latest in comprehensive, quality dental care. Bright Now! Dental offers general dentistry, preventive care, children's dentistry, and, in certain locations, specialty care services, including orthodontics (braces), oral surgery, periodontics, and endodontics. Bright Now! Dental accepts most insurance plans and offers patients without insurance the opportunity to enroll in the ConfiDent Plan 2100 for California.
To celebrate its grand opening, the Westchester dental office is offering dental discounts: $29 Cleaning, Exam, Digital x-Rays & Therapeutic Rinse1 and $100 off dental services2. Please visit our website for additional new patient dental offers in California. The opening of this office continues the growth and mission of Smile Brands and its affiliated dental groups: to provide "Smiles for Everyone"® by bringing quality, affordable dental care to local neighborhoods.
Bright Now! Dental's Colleen P. Vo, D.D.S., a practitioner with more than 19 years of experience and a graduate of the dental school at the University of Southern California, will lead the clinical team in the new Bright Now! Dental office. Dr. Vo and her staff are fluent in English and Vietnamese and staff members also speak Spanish.
"When I work with patients, I make sure to treat their teeth as if they were my own," says Dr. Vo. "I listen to their concerns, help answer any questions, respond to their needs and provide the best care possible."
This new office is open Mondays and Fridays 9 a.m.-6 p.m., Tuesdays and Wednesdays 10 a.m.-7 p.m., and every Saturday 8 a.m.-2 p.m.
Prospective patients can call the new Los Angeles, CA Bright Now! Dental office at (310) 846-0172 or toll-free at 1-888-BRIGHT-NOW (1-888-274-4486), or visit us online to schedule a Los Angeles dentist appointment.
About Smile Brands Inc.
Smile Brands Inc. is one of the largest providers of support services to dental groups in the United States. Smile Brands Inc. provides comprehensive business support services so dentists can spend more time caring for their patients and less time on the administrative, marketing and financial aspects of operating a dental practice. Smile Brands Inc. services support more than 1,300 dentists and hygienists practicing in over 360 Bright Now!® Dental, Monarch Dental®, and Castle Dental® offices in 18 states.
Nearly three quarters of a million people a year take advantage of extended evening and weekend office hours, convenient locations, affordable prices, and flexible payment plans for quality, full-service dental care including general and cosmetic dentistry, and specialty services such as orthodontics at affiliated Smile Brands offices.
Based in Irvine, Calif., Smile Brands Inc. and its affiliated dental offices combined employ approximately 4,600 people nationwide. For more information, visit http://www.smilebrands.com.
1. Retail price $391. New adult cash patients only. Services rendered same day. Cleaning in absence of periodontal disease. $29 includes $10 enrollment into ConfiDent® Plan 2100 for first 3 months.
2. $100 off dental services when you spend $300 or more per person. Offer is not redeemable for cash or credit. Valid on non-covered services and coordinated with insurance.
All offers are subject to change, cannot be combined and expire 12/31/13.
Fratt Dental Corporation