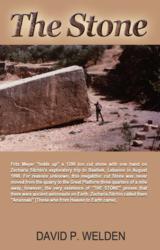 Know the Truth that is hidden for centuries.
(PRWEB) April 05, 2013
David Welden leaves his readers astounded in his first book, The Stone.
David Welden's first book, The Stone, has successfully opened many readers' minds to the unimaginable possibilities of space. Currently available for purchase in paperback on leading retailers nationwide, the book presents ingenious proofs not only of the existence of extraterrestrials, but also of their role in the creation of Homo sapiens or modern humans.
Evidences of alien life are provided through personal accounts of individuals who made compelling claims to have seen aliens or UFOs, such as Travis Walton, the late Jesse Marcel Sr., Barney and Betty Hill, Budd Hopkins, and Billy Meier, among others. Comprehensive explanation of the reputed Zecharia Sitchin's extraordinary claim on human "creation" is also offered, as backed by ancient Sumerian texts. At the end of the book, Mr. Welden offers his own straightforward conclusions to summarize his findings.
Unveiling the truth most people are remotely aware of, David Welden's The Stone has effectively challenged all things we thought we knew about ourselves and the wide universe.
About the Author
David P. Welden is the inventor of Welden Direct Fired Steam Generator. He is an avid fan of UFO stories, which prompted him to take seven expeditions with Zecharia Sitchin and to write his own book in 2002.
Visit his webpage at http://www.accurance.com/davidwelden/ for additional information and purchase of the book.