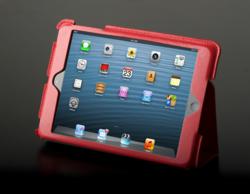 Modern and elegantly designed Apple iPad Mini Case that doubles as a stand and offers great protection.
Santa Ana, California (PRWEB) April 29, 2013
Making its debut earlier this week, AViiQ introduces two new iPad Mini Cases including the sleek and multi-functional AViiQ® SLIM CASE iPad Mini Case which delivers supremely durable, full-body protection, and the AViiQ® JU'X IN CASE iPad Mini Case which delivers superior full-body hard case protection in a small form factor. These cases are available in a choice of four material finishes; Leather, Leatherette, Polyurethane Plastic (PU), and PU lined cover over Poly Carbonate plastic for the JU'X IN CASE series. They are available in eight colors; black, brown, red, white, grey, blue, green and pink.
The AViiQ SLIM CASE iPad Mini Case is manufactured from high quality genuine leather, cutting-edge Litchi leatherette, and ultra lightweight PU soft-touch plastic, its minimal frame perfectly fits the iPad Mini to minimize excess size while maximizing protection. The tailored fit and design of the AViiQ SLIM CASE gives it a sleek and clean aesthetic and its construction provides unbeatable protection against dust, dirt and scratches. Even with all this protection the case weighs only an approximate .009Kg or 3.1oz making it incredibly light weight.
The AViiQ JU'X IN CASE iPad Mini Case is manufactured from a durable polycarbonate shell that is designed to snap-fit the iPad Mini perfectly. The PC hard case is then wrapped in a soft luxurious yet resistant PU plastic layer that provides added protection and comfortable handling. The tailored fit and design of the AViiQ JU'X IN CASE gives it a simple modern aesthetic and it's construction offers the highest extreme accident protection from major drops and spills.
In addition to the protection detail, the AViiQ SLIM CASE and the AViiQ JU'X IN CASE series of iPad Mini Cases easily transform into a stand when the iPad Mini is in use. Its user friendly design can be used for increased comfort when reading, typing or viewing whether at home, school, in the office or on the move. As a well designed case for iPad Mini by AViiQ®, these cases feature quick access to the ports, buttons, microphone and camera holes.
In addition to the launch of these new cases for the iPad Mini, AViiQ.com has begun their Mother's Day 2013 sale and this includes several of the most popular power and charging devices. The mobile accessories brand is offering discounts on portable charging stations and travel adapters with savings of 30% off all Power and Charging products. This is a limited time offer which ends May 12th 2013 and is the perfect compliment for iPad Mini, iPad or iPhone owners.
To find out more and to order, visit http://www.aviiq.com
About AViiQ:
AViiQ adheres to the tenet that form should follow function.  Founded to create consumer mobile electronic accessories that maximize productivity through enhanced functionality and high-end design, AViiQ offers the finest in function and style.  Laptops revolutionized the computer world by adding the freedom of mobility and AViiQ transforms that freedom into power.  For more information about AViiQ please visit http://www.AViiQ.com
For additional information on these and other AViiQ products, please contact AViiQ PR at alan(at)aviiq(dot)com or at (949) 515-8840. Follow us on http://www.facebook.com/aviiq for current social updates.