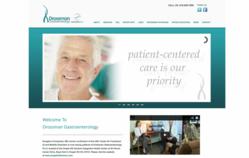 "Since Precision Marketing Partners launched our new site earlier in the month, the traffic and inquiries have nearly doubled on a weekly basis," says Dr. Douglas Drossman.
Raleigh, NC (PRWEB) April 02, 2013
Leading inbound medical marketing firm Precision Marketing Partners has created a new, patient-centered website for North Carolina-based Drossman Gastroenterology. Precision president Greg Fawcett believes that a vibrant, dynamic website is a priority for medical practices if they are to compete effectively with other practices in the highly-competitive patient market place.
"A strong website is the hub around which all other web-based marketing revolves," says Fawcett. "From content marketing through patient education and material for social media dissemination, the website drives the process."
"The new website for Drossman Gastroenterology offers a substantial amount of educational information," says Fawcett. "Much of the material is available in the form of downloads, so it can be saved or printed for future reading." He feels the final product is a testament to Dr. Drossman's exceptional patient focus, and is confident the site will achieve both its patient acquisition goals as well as becoming a central part of the practice's communications.
Fawcett says that more healthcare services are starting to realize the value of a user-friendly website, in spite of the difficulty some physicians and other medical professionals have with the idea of marketing. "There's still a sense that marketing healthcare services is somehow unethical," he says, "but more practices now accept that by promoting their offering, the patients are the ones who benefit from having the information readily available where they can search for it."
Precision Marketing Partners works with a number of healthcare practices in North Carolina and several other regions of the country, and Fawcett says he is excited about the possibilities inbound marketing offers for his clients. From helping practices put in place comprehensive marketing strategies to managing search engine optimization and content, he foresees patients becoming more involved with their medical professionals, leading to a potentially dramatic increase in patient referrals as a result.
And Dr. Drossman? He believes his practice's new website aligns well with his philosophy of collaborating actively with his patients to achieve optimal health for them.
"So much has changed with regard to the way patients are managed," says Dr. Drossman, who is the former co-Director of the UNC Center for Functional GI and Motility Disorders. "As doctors, we no longer afford patients the time and attention that was so healing in the past."
The new website is part of his plan to change all that.
For more information on medical practice marketing, social media or branding strategy, visit http://www.precisionmarketingpartners.com.
About Precision Marketing Partners
Precision Marketing Partners is a Raleigh, North Carolina based marketing firm specializing in Inbound Marketing, Branding, Creative Design and Strategic Planning. Our approach is one of partnering with clients to help them build a strong marketing presence. In a world that is increasingly web- and cloud-centric, medical practice marketing is vital and delivery methods change in a moment. At Precision, we pride ourselves on our ability to understand the changes and nuances and the ways in which they impact your practice.