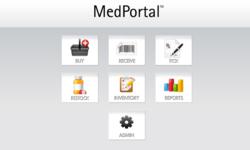 MedPortal provides pharmacies with bottom-line impact.
Denver, CO (PRWEB) April 02, 2013
Swisslog, a leading supplier of automation and software solutions for material transport and medication management, today announced that it has released MedPortal, the first fully integrated software for pharmacy inventory management. MedPortal gives pharmacists new possibilities by freeing them from routine management tasks and offering them a unique view into their drug spend and utilization data. Web-based MedPortal allows true control and management of the drug spend, supporting multi-location drug management in a single facility or across multiple sites within an organization.
"MedPortal provides pharmacies with bottom-line impact," states Jessica Schneider, Pharmacy Solutions Product Manager, "by reducing on-hand inventory, reducing drug waste due to expiration, increasing inventory turns, reducing the incidence of missing medications and improving workflow without compromising standard of care. It's easy to use, which promotes system adoption and compliance, therefore ensuring data integrity."
Through its intuitive user interface, MedPortal gives Directors of Pharmacy (DOPs) access to actionable data on drug utilization and inventory status. Dashboard reporting facilitates faster analysis and problem-solving. Together, these features promote efficient data gathering and reporting, enabling DOPs to focus on their big-picture goals of productivity planning, workflow optimization and staff engagement, rather than the day-to-day management of drug availability and spend. Process automation allows pharmacy staff to focus on patient care, freeing them from tedious and repetitive inventory management tasks and facilitates a state of "continual readiness."
Using MedPortal, hospitals can increase patient safety by ensuring accurate inventory; improving visibility to inventory across multiple pharmacy locations; accurately tracking expired drugs and removing them from the system; confirming dispense orders to ensure right drug/right patient; improving data access and facilitating formulary updates to actively manage drug shortages. MedPortal software is scalable, permitting the addition of new pharmacies and hospitals as health systems grow and pharmacy configurations evolve over time.
Swisslog Healthcare Solutions (HCS) is the leading supplier of automation and software solutions for material transport and medication management in healthcare facilities. Swisslog has installed facility-wide and pharmacy automation systems in more than 3,000 hospitals worldwide, including more than 2,000 in North America. Denver-based Swisslog Healthcare Solutions offers total system design, manufacturing, installation and customer support – providing an integrated solution for lean workflow and operations that enhances information access, patient safety and cost efficiency.
About Swisslog
Swisslog is a global provider of integrated logistics solutions for warehouses, distribution centers and hospitals. Its comprehensive services portfolio ranges from building complex warehouses and distribution centers to implementing Swisslog's own software to intra-company logistics solutions for hospitals.
Swisslog's solutions optimize customers' production, logistics and distribution processes in order to increase flexibility, responsiveness and quality of service while minimizing logistics costs. With years of experience in the development and implementation of integrated logistics solutions, Swisslog provides the expertise that customers in more than 50 countries rely on.
Headquartered in Buchs/Aarau, Switzerland, Swisslog currently employs over 2,000 staff in 20 countries worldwide. The group's parent company, Swisslog Holding AG, is listed on the SIX Swiss Exchange (security number: 1232462, Telekurs: SLOG, Reuters: SLOG.S). For more information, visit http://www.swisslog.com.