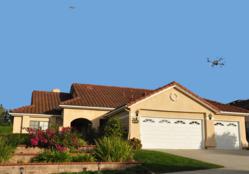 Boston, MA (PRWEB) April 01, 2013
Today CastleOS Software, LLC announces a new addition to its suite of home automation products, the SmartHawk™ home drone control software. SmartHawk gives homeowners the ability to control their own aerial drone to monitor and protect their property. No longer are drones only the purview of the government, now all property owners can have an exciting and affordable airborne addition to their home automation suite.
With patrol schedules and automated charging stations, the drone can stealthily fly a predetermined course around the perimeter of a property keeping lookout for unwanted visitors, and providing real-time weather data linked to a home's smart thermostat, making it so that a homeowner can keep an eye in the sky and never have to touch the thermostat again!
The drone's HD and HD-IR cameras, digital microphone, and remote-uplink speaker allow for unparalleled flexibility in property monitoring, all from an easy to use Android or iOS application. Operating the drone is as simple as programming property boundaries into its onboard GPS Map, installing the easy-to-setup home drone launcher, and selecting a pre-programmed or custom watch pattern, such as "Dusk-to-Dawn" mode.
Soon this feature will be expanded to support multi-drone swarms, allowing homeowners of large properties to use a network of SmartHawk drones operating in parallel to enlarge and overlap coverage, allowing the system to retain complete protection while individual units recharge.
SmartHawk joins CastleOS' existing advanced automation features DawnGuard™, NightShield™, EnergyEye™, PermaLight™, and others, and is fully integrated with CastleOS voice control system using Microsoft Kinect®. With CastleOS, launching a drone is as simple as saying, "Computer, launch the drone."