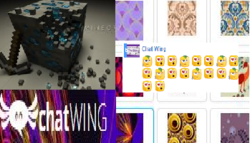 Cambridge, MA (PRWEB) April 30, 2013
Minecraft, the famous block-shattering game, is still gathering thousands of players on a daily basis. Many game professionals believe that Minecraft's popularity lies on the way players can customize their gameplay experience. Because of this, Minecraft players created blogs in which they showcase their creations and gameplay experience. Recently, Chatwing Development Team reached out to the Minecraft community by introducing its newest chatroom tool. With the new chatbox, Minecraft players can gather more tips and discuss about the game's important updates.
Chatwing chatbox, like Minecraft, is a customizable engine. Users can tinker with the chatroom's customization options. There are hundreds of color combinations available, and the user can also select from background images. Chatwing's developers have noticed that Minecraft blogs tend to be colorful, so the platform's different color styles can help any blogging experience.
When it comes to information relay, Chatwing shoutbox is supreme. It delivers optimum real-time communication, so Minecraft players can gather tips swiftly. Visitors of the chatroom don't need to wait for upcoming data—the admins can just leave the data in the chatbox as often as they want. The newest version of the Chatwing tool also has a chat network system, allowing users to interlink their chatrooms in one click. Once chatrooms are interlinked, discussions will become more fruitful than ever.
Chatwing Dev Team will continue expanding in many game communities because they believe that online chat is always needed. To support this expansion, the company's developers will introduce more features and customization options. Content about these new features will be posted in Chatwing's Facebook page and blogs.
About Chatwing.com
Chatwing.com specializes in the new field of website chat. Over years, the Chatwing team has introduced live chat widget for hundreds and thousands of blogs. The Chatwing application bridges people from many parts of the world, creating global synergy through the Internet. The shout box can be installed in just seconds, and it can be used for varying purposes such as leisure and Internet marketing. It also allows a user to customize the size, color, and name of the widget. Chatwing is 100% free for everyone.