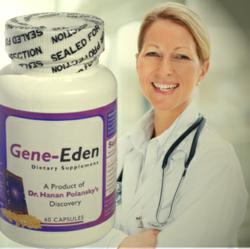 We're pretty excited about this since it's the first video we've put out on an illness and what we consider to be the most safe and effective remedy for that illness on the market today. - Mike Evans
Rochester, NY (PRWEB) April 02, 2013
polyDNA has released a new video on HPV symptoms. The new video, entitled "HPV Symptoms: Info You Need to Know" was released on Youtube.com and is rapidly rising through the video rankings.
HPV is the most common sexually transmitted infection. [1] In fact, According to the CDC, over 20 million people in the U.S. are infected with the Human Papillomavirus. Since HPV is transmitted through any skin-to-skin contact, you don't have to have sex in order to become infected with the virus.
That's why many young people call HPV, "stuff that gets up around the sides of condoms."
Mike Davis, of polyDNA said, "This video highlights the various symptoms associated with HPV. It also showcases the HPV remedy, Gene-Eden-VIR. We're pretty excited about this since this is the first video we've put out on an illness and what we consider to be the most safe and effective remedy on the market today."
Specifically, polyDNA's video aims to improve women's knowledge of HPV symptoms as well as provide information on its all natural, HPV remedy, Gene-Eden-VIR.
A recent post marketing clinical study showed that Gene-Eden-VIR is effective against the latent HPV virus. By helping the body's immune system target the latent herpes virus, people also lower their risk of developing fever blisters, cold sores, or genital herpes symptoms. [2]
Gene-Eden-VIR is highly effective against the latent herpes virus, each ingredient was chosen through a scientific approach. Scientists scanned thousands of scientific and medical papers published in various medical and scientific journals around the world to identify the safest, most effective natural ingredients that target the latent forms of both HSV-1 and HSV-2. [3]
To learn more about Gene-Eden-VIR, the only product on the market today that helps kill the latent Human Papillomavirus (HPV) and that is scientifically backed by published material, visit http://www.gene-eden-kill-virus.com.
References:
[1] [2 [3 http://www.gene-eden-kill-virus.com/studies.php
###
About polyDNA
polyDNA is a biotechnology company that develops dietary supplements using the unique scientific method developed by Dr. Hanan Polansky's, which is based on Computer Intuition.
In addition to his unique scientific method, Dr. Polansky published the highly acclaimed scientific discovery, called Microcompetition with Foreign DNA.
The discovery explains how foreign DNA fragments, and specifically, DNA of latent viruses, cause most major diseases. polyDNA developed Gene-Eden-VIR an antiviral natural remedy that helps the immune system kill latent viruses.