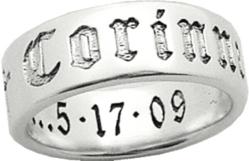 if people invest in a life goal, they invest in a brighter future
Omaha, Nebraska (PRWEB) April 02, 2013
Remember the old days of tying strings to a finger to remember things, well custom promise rings is announcing a new ring to their collection. Following the Anglo Saxon tradition of tying strings around fingers to 'tie the memory to the body', Custom Promise Rings encourages its customers to try something new.
Wearing a ring around the index finger has been scientifically proven to promote higher brain activity particularly in the hippo campus for memory. With personal engravings, Custom Promise Rings promises that life events such as marathon dates, goals and even anniversaries will be remembered. The new line features a great variety of style choices in its quest for better memory.
Whether it's a weight loss goal or personal commitments of sobriety, the company believes that if people invest in a life goal, they invest in a brighter future. The new line of Personal Promise Rings is intended to reinforce broken New Year's resolutions. As the company's motto suggests, 'Don't say it, engrave it'. Learn more at customspromiserings.com.
Custom Promise Rings likes to say, 'Don't say it, engrave it'.
More style ideas and information at custompromiserings.com or call 801-636-2325