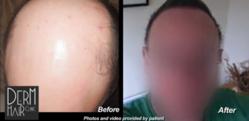 Los Angeles, California (PRWEB) April 02, 2013
Severely bald patients have been rejected for hair restoration surgeries up until now. Dr. Sanusi Umar, a leading innovator in advanced FUE with uGraft shows that even profound hair loss is treatable.
In February of this year, one of his patients, who was a Norwood 7 (the most advanced stage of baldness), reached his six month mark after his surgery where 10,500 grafts were used. The patient had asked for a conservative level of coverage, along with a high hairline. And with his remarkable new look, he no longer has to use a hairpiece. And, more improvements are expected from this point on. The patient's before and after video can be viewed here.
NEW POSSIBILITIES WITH BODY HAIR FOLLICLES FOR SEVERE BALDNESS
Many people find it ironic that a balding patient needs to have hair to get the hair. Conventional hair restoration procedures rely on harvesting follicles from the back and sides of the head. They are then inserted into carefully placed slits in the hair loss regions.
Because the immune system tends to attack proteins that are foreign to the body, these hair follicles must be one's own. They cannot be from another person.
Severely bald patients often have just a small margin of hair around the lower sides and back of their head. This does not offer enough grafts for adequate coverage. Therefore, these individuals have typically been denied candidacy for these procedures.
Through numerous successes on a variety of real patient cases, Dr. Umar has shown that hair follicles from other areas of the body can offer an abundant source of donor follicles to benefit the most severe cases of baldness. He has developed a proprietary treatment system called uGraft that allows him to make precise excisions to safely extract healthy, undamaged hair follicles. The resulting wounds are minuscule and heal very quickly. And the risk of scarring is extremely minimal, which is quite important when extracting grafts from highly visible body areas like the face.
In body hair transplant procedures, natural groupings of hair (follicular units) can be directly harvested from regions such as: nape of the neck, chest, legs, arms, abdomen, back and face. These grafts can then be inserted into areas of hair loss.
THE USE OF BEARD HAIR FOLLICLES FOR THE SEVERELY BALD
Dr. Umar's patient received a combination of donor grafts from the beard area and the head. In most men, facial hair tends to grow quite abundantly. The quantity of follicles in this region can be particularly advantageous for severely bald individuals. These follicles can be re purposed to help reverse the signs of hair loss. Non head hair usually takes about two years to display its fullest growth. Research and results on actual patients show that hair from body follicles lasts long term.