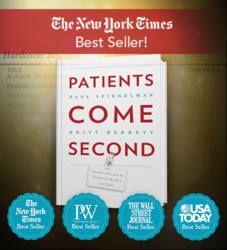 This book not only talks about creating extraordinary results in health care, it explains how to do it! A must read at every level.
Dallas, Texas (PRWEB) April 02, 2013
Paul Spiegelman, Founder and CEO of BerylHealth, and Britt Berrett, President of Texas Health Presbyterian Hospital of Dallas, have recently released Patients Come Second, Leading Change by Changing the Way You Lead, now a New York Times bestseller published by An Inc. Original. Officially released on March 19, 2013, Patients Come Second is also a bestseller in the Wall Street Journal, USA Today, Amazon and Barnes & Noble.
Having spent many years leading their respective healthcare organizations and understanding the connection between culture, customer loyalty and financial results, Spiegelman and Berrett began interviewing executives and leaders of hospitals and health systems of all sizes and types across the country and put pen to paper.
In the book, readers will see that focusing on employee loyalty can have a direct impact on patient loyalty and that building great, collaborative teams is the key to success. "This book not only talks about creating extraordinary results in health care, it explains how to do it! A must read at every level," says Ron McMillan, coauthor of The New York Times bestseller Crucial Conversations.
Patients Come Second encourages leaders to get back to the basics of building employee engagement, driving core values, and pursuing the deeper purpose healthcare providers find in their work. "Patients Come Second is written in an irresistible style that makes it fun and inspiring to read and hard to put down. I highly recommend this book to every administrator and manager," remarks Fred Lee, author of the bestselling book, If Disney Ran Your Hospital.
In order for other healthcare organizations to begin to evaluate their employee engagement levels, , Paul and Britt developed the Culture IQ test which creates a baseline score for the current culture, and helps develop a roadmap for improvement. The Culture IQ test is free and is available at http://patientscomesecond.com/survey/.
For more information or to order a copy of Patients Come Second, visit http://www.PatientsComeSecond.com.
About Paul Spiegelman
Paul Spiegelman is founder and CEO of BerylHealth, a patient experience company dedicated to improving relationships between healthcare providers and consumers and chairman of The Beryl Institute, a membership organization that serves as the premier thought leader on improving the patient experience in healthcare. Spiegelman is a sought-after speaker and author on executive leadership, entrepreneurship, corporate culture, customer relationships and employee engagement. For more information about Paul Spiegelman, visit http://www.PaulSpiegelman.com.
About Britt Berrett
Britt Berrett serves as president of Texas Health Presbyterian Hospital Dallas, overseeing strategic planning and operations and guiding the hospital in its mission to improve the health of the people in the community it serves. Berrett received his bachelor's degree in finance from Brigham Young University and his master's degree in hospital administration from Washington University School of Medicine in St. Louis. He also received his PhD in Public Administration from the University of Texas at Dallas.