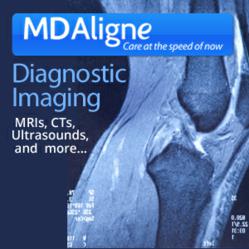 NextImage Direct is the best partner to provide our patients safe and affordable medical imaging services. - John Palumbo, President of MD Aligne
Conshohocken, PA (PRWEB) April 02, 2013
Today, MD Aligne announced it entered a definitive agreement to partner with NextImage Direct. The partnership will provide consumers high-quality, low-cost imaging solutions, telephone and digital doctor consultations, medical advice, diagnoses and prescribed medications resulting in a savings up to 75%. With more people enrolled in high deductible plans, those with no insurance and those who wish to self-pay, patients now have an affordable option to costly imaging services.
"After careful evaluation of a number of potential partners, MD Aligne is confident that NextImage Direct is the best partner provider to assist us and our patients in providing safe and affordable medical imaging services," said John Palumbo, President of MD Aligne. "NextImage Direct is not just about providing a discount MRI or discount CT. They provide you with a quality, credentialed, nationwide network to give you quality care at an affordable price. NextImage Direct is perfect for those who are underinsured, have high deductible plans, or wish to self-pay."
The MD Aligne, NextImage Direct network includes over 4,000 fully-credentialed medical imaging facilities and radiology providers. Regular ongoing monitoring of credentials through an online system ensures patients will receive the best possible diagnosis, resulting in the best treatment options and the best quality of care.
"At NextImage Direct, we believe that everyone should have access to quality care at an affordable price," says Ms. Liz Griggs, Chairman and CEO at NextImage Medical, Inc. "MD Aligne shares those same values and understands the needs of our customers and patients, especially those who have limited or no medical insurance. After all, better imaging leads to a better diagnosis, better treatment, and a better recovery – which is our ultimate goal."
Same day or next day scheduling is available with results sent to a physician within 48 hours of testing. NextImage Direct provides:

Access to over 3,000 Credentialed Imaging Providers Nationwide
Same or next day Scheduling in your Area
Quality Diagnosis by Certified Physicians
Results sent to Referring Physicians within 24-48 hours
Together, MD Aligne and NextImage Direct (always end with proper names) will provide all consumers smart cost solutions for high quality imaging, safe, convenient and affordable access to healthcare solutions.
About MD Aligne
MD Aligne is a new and better way to get the professional healthcare you need when you need it. MD Aligne offers healthcare resources via the telephone or web providing safe, convenient, and affordable access to remote caregivers utilizing our digital platform. As a web-based consumer health company, we deliver multi-device solutions for consumers to conduct health e-commerce for doctor consultations, medical advice and diagnosis, prescription and testing, and other healthcare supplies and therapies so our customers can manage their health, in their way, on their schedule.
According to a global survey, consumers are growing more comfortable with online doctor visits, with 70% of U.S. patients open to the idea and some studies are even showing better outcomes from telehealth than in person. For those health issues that do not require a face-to-face visit, our services are efficient and easy. Our digital and telephone doctor consultations give patients timely access to quality medical advice and the convenience of conversing with medical professionals 24/7, from home or work, reducing the total cost of the traditional medical office visit experience. For more information, visit mdaligne.com or call 1-888-738-5574.
About NextImage Direct
NextImage Direct leads the industry in providing the highest quality MRI and CT services via a premier nationwide network of fully credentialed and certified imaging facilities and physicians. Next Image provides the same quality assurances of rigorous credentialing and certification as health insurance companies ensuring the best possible diagnosis, resulting in the best treatment options.
Based in San Diego, NextImage Direct's next generation of radiology management services features teleradiology and a digital archiving system, improving diagnosis and treatment, reducing the time from imaging to diagnosis and treatment. NextImage Direct also offers the advanced Electrodiagnostic Management Services (EDX), which uses a network of board-certified specialists at contracted rates to guarantee quality and reduce the likelihood of having repeat or unnecessary tests. For more information visit NextImageDirect.com.
Contact:
Taylar Cooney
Corporate Administrator
Tel: 484.784.4560
mediarelations(at)mdaligne(dot)com