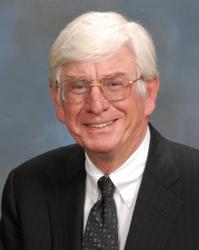 When we say that Manhattan is 'the College that builds New York,' we're talking about people like Dr. Thornton, though in his case we need to say 'the College that builds all over the world'
RIVERDALE, N.Y. (PRWEB) April 01, 2013
Charles H. Thornton '61, Ph.D., P.E., chairman of Charles H. Thornton & Company, LLC, a management and strategic consulting firm, will deliver Manhattan College's keynote address at the College's 171st Commencement on Sunday, May 19.
Thornton, who received a Bachelor of Civil Engineering from Manhattan College in 1961, will receive an honorary doctorate in engineering during the 1 p.m. ceremony, which will award approximately 750 undergraduates with degrees in some 40 major fields of study from its schools of arts, business, education and health, engineering and science.
"When we say that Manhattan is 'the College that builds New York,' we're talking about people like Dr. Thornton, though in his case we need to say 'the College that builds all over the world,' " said Brennan O'Donnell, Ph.D., president of Manhattan College. "He has not only had a great career as an engineer but has also worked tirelessly as an educator and mentor to encourage the next generation of engineers, architects and construction professionals."
Thornton, one of the world's preeminent structural engineers and a former member of the Manhattan College Board of Trustees, is a founding principal and former co-chairman of the international consulting firm Thornton Tomasetti, a worldwide leader in engineering design. He has been involved in the design, construction and analysis of billions of dollars worth of projects worldwide, including award-winning hospitals, arenas, high-rise buildings and airports that have set industry standards for innovative thinking and creativity.
In 1993, Thornton founded the Architecture, Construction and Engineering (A.C.E.) Mentor Program, a nonprofit organization that has offered guidance and training to more than 60,000 high school students in 200 U.S. cities and has provided more than $12 million in scholarships — many of them to disadvantaged students. For that initiative, which grew in part through collaboration with Manhattan College's School of Engineering, Thornton received the Hoover Medal, bestowed by the American Society of Civil Engineers in recognition of humanitarians. In 2011 the A.C.E. program was honored with the White House's Presidential Award for Excellence in Science, Mathematics and Engineering Mentoring.
A member of the National Academy of Engineering, the American Society of Civil Engineers and the National Academy of Construction, Thornton led the design of two of world's tallest structures: the Taipei 101 in Taiwan, and the Petronas Twin Towers in Malaysia. He also led the investigations into the collapses of the Hartford Coliseum Space Truss Roof in Hartford, Conn., and the cooling tower in Pleasants Power Station cooling tower in Willow Island, W.Va., which many consider the largest construction accident in U.S. history. Thornton is also chairman emeritus of the Salvadori Center, an organization that each year educates more than 2,000 New York City Middle School students in mathematics and science in using architectural and engineering principles.
Members of the media who would like to cover the Commencement ceremony should email Liz Connolly Bauman, director of communications at Manhattan College, at public_relations@manhattan.edu.
# # #
About Manhattan College:
Manhattan College is located at West 242nd Street near Broadway in the Riverdale section of the Bronx, one mile from the Westchester County line and accessible by MTA subway line No. 1. For directions to the campus, visit http://www.manhattan.edu.
Founded in 1853, Manhattan College is an independent, Lasallian Catholic, coeducational institution of higher learning offering more than 40 major programs of undergraduate study in the areas of arts, business, education and health, engineering and science, along with continuing and professional studies, and a graduate division. For more information about Manhattan College, visit http://www.manhattan.edu.